May 1, 2017
We've been back home in Boise, Idaho, for a little over a week, but these past nine days pale in comparison to the fifty-six days we were cruising in Southeast Asia. I'm not complaining; I consider it a blessing that Celebrity Cruise Lines likes the presentations that I give to its passengers and that they continue to invite me back to speak on their ships. These recent cruises, starting in Singapore and ending in Yokohama were on the Celebrity MILLENNIUM, a ship that I've now been on for seven cruises.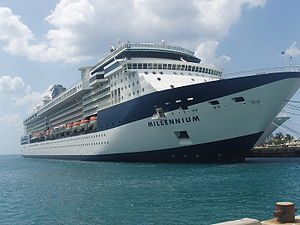 The typical reaction from other guests at dinner when they found out what I was doing, or they recognized me from coming to my presentations in the theater, was "That's a pretty good gig." And I agree; it is a good gig, and I don't take it for granted. In case you're curious, more information on my speaking on cruise ships can be found by clicking here.

One of the nice things about speaking on ships I've been on before is that I see many of the staff and crew that I've previously met. The Master of the Vessel, Captain Nikolaos Christodoulakis, is a very warm and engaging leader. He always greets me by name, tells the other guests about me and my novels, and is widely liked by all. His wife and young daughter were also aboard, and we would typically see all of them at the evening show in the theater. Manuel, the Activity Manager, was always smiling even as he was rushing from one Celebrity Life event to another. There were a few of the wait staff that had been on last September's Vancouver to Tokyo crossing that I was on who were just finishing their "contract" and looking forward to the trip home and a two-month break. I don't blame them — everyone on the ship works very hard seven days a week.

Life on the ship is a little different for the speakers and the entertainers. Our schedules are fairly simple, and we're not required to do anything extra. I typically let the Cruise Director and his staff know that I'm available to help with anything they need, or to give extra talks in case a "port day" turns into a "sea day." This doesn't happen very often, but we did have a day of total fog where we sat anchored outside Shanghai because the port pilot felt it was too dangerous to move — we could see over two dozen ships that spent the day there. Some of the guests were disappointed because we then had to skip our next scheduled stop in Nagasaki, Japan, after I had given a talk highlighting the wonderful sights and people there. Lucky for my wife and me was that we'd already been there twice in the past month so we'd already been able to visit the Peace Park, Glover Garden, etc.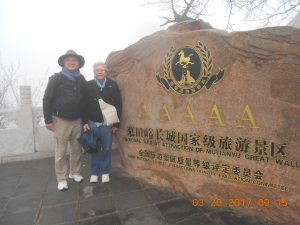 The weather wasn't always the best at times, including the day our small-group tour went to the Mutianyu section of the Great Wall; it was cloudy, rainy, windy, cold! But . . . we were at the Great Wall of China!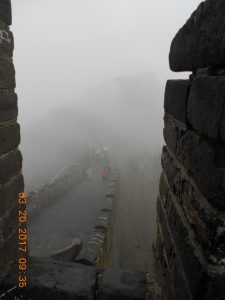 We did have some very good meals while we stayed in Beijing for the three days. One evening we went to a restaurant recommended by our guide, and the six of us had Peking Duck, vegetables, rice, beer, dessert — all for a grand total (for ALL six of us) of just under $60! On the way back to the hotel, we saw this bottle of wine and just couldn't pass it up.

While in Beijing, we also went to Tienanmen Square, the Forbidden City, the Summer Palace, the Temple of Heaven, and we did a Hutong tour. It was interesting to hear first-hand from long-time hutong residents about the life in those small areas where the housing is somewhat communal. Four families might live in one building; they each have their own separate living and eating areas, but there is usually a central courtyard to be shared by all. The rooms are small and sparse, but they have what they need and seem quite content.

Overall we went to seven countries (Singapore, Thailand, Vietnam, Taiwan, Japan, South Korea, China — mainland and Hong Kong) on the four cruises. Besides our time in Beijing, I think the most interesting places were Halong Bay and Hoi An in Vietnam. The limestone caves in Halong Bay are amazing and colorfully lighted. Even the locals go to view them so you know they must be special! Hoi An looks like a sleepy little town but the life along the riverfront is amazing — full of shops and hotels. Our tour group ventured through the central market and took a cooking class before Darlene and I headed out on our own to wander the small streets.

Back to why we were on the cruises. I gave two types of presentations: on two of the cruises I gave a series of talks I call "Now That We're There" — highlights of the locales we're visiting; tips on getting around; where to get local information, free Wi-fi, etc. These talks are greatly appreciated by the independent travelers. "Music of the Masters" was the title of the classical music presentations (most of the time was music) that I gave on the other two cruises. There were many devoted music fans watching and listening and completely absorbing the beauty of the music from Bach, Handel, Haydn, Mozart, Beethoven. On one of the sea days, I led a matinee presentation in the theater accompanied by the classical string duo. You can watch the videos from that presentation on my YouTube channel by clicking here. The videos are titled "SeaConcert part1" and "SeaConcert part2." I hope you enjoy the great music from the duo.

Eight weeks — yes, it's a long time (and some people take 100+ day round-the-world cruises), but it was a great opportunity to meet so many wonderful people, share some of my travel and music knowledge, and to visit some very interesting parts of Asia. What's in the forecast for more travel?
Leaving again soon:
May 6-13: leading a small-group tour in Cabo San Lucas, Mexico — details here
July 9-23 and July 25 – August 9: speaking on 80-passenger boat that tours Hudson River, Erie Canal, 4 Great Lakes with Blount Small Ship Adventures — details here
August 28 – October 9: speaking on 4 cruises in the Mediterranean aboard Celebrity CONSTELLATION — visiting such amazing places as Venice, the Greek Isles, Malta, Barcelona, and many more!
Speaking of tours, I am leading two small-group tours in 2018 during the summer months (June and July), making them ideal for teachers and others in the school system. Have you ever wanted to go to Cabo San Lucas (with someone who's been there over 20 times), or what about Copenhagen and Norway? Click here to see the tours and what we'll be doing. Remember, each tour group is only 8 to 12 guests!

If you've ever thought about cruising, do it! Don't start with eight weeks, but start with a cruise to someplace fun, warm, and adventurous. If you want help in finding the right cruise, send me an email and I can send you the name of a travel agent I've used who can find the perfect trip for you!
---
Happy Travels!
Stuart
---
---
Stuart Gustafson is America's International Travel Expert® who speaks on cruise ships, writes novels, sends out an infrequent newsletter (almost every month!), is an avid TripAdvisor reviewer, and loves everything about travel. Visit his website at www.stuartgustafson.com. You can also connect with him and other travelers on his International Travel Expert page on Facebook at www.facebook.com/International-Travel-Expert-147321228683651/
---
All information and images copyright © 2017 by Stuart Gustafson Productions, LLC. America's International Travel Expert is a U.S. Registered Trademark of Stuart Gustafson Productions, LLC. Ownership of images and content from linked sources remains with those sources or their attributions; no ownership by Stuart Gustafson Productions, LLC, is implied or claimed.
---