We just got back from two glorious weeks in Cabo San Lucas, BCS, Mexico. The weather was beautiful(remember that we left sub-freezing temperatures and lots of snow on the ground in Idaho); the food was delicious (as always!); we had a great time with my brother, his wife, and a friend (including our annual lobster dinner at Maro's), and then we returned to Boise where most of the snow had melted freeing up the streets and the lawns. Relaxation time, right? Well, not exactly. We have to get our taxes done, do some shopping, and then lots of packing before we head over to SE Asia for two months.

Speaking of Cabo, I'm leading a third annual Los Cabos Highlights Tour next year — June 17-23, 2018 — that I guarantee you WILL enjoy. If you're not interested, tell your friends because I've been going there every year since 2003; I know the people; I know the best places to go — and we're going there! CLICK HERE to learn about the tour and see how to register.

Get your EARLY Booking Discount when you register by April 1, 2017!
---
Did I say, "Cruising for two months?"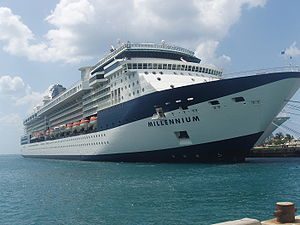 Yes, We'll be on four cruises (total of sixty days) on
Celebrity MILLENNIUM
that I'll be speaking on as we visit many, many ports in Singapore, Thailand, Vietnam, Hong Kong, Taiwan, Japan, South Korea, and mainland China. I've been to most of the places before, but these will all be new experiences for my wife. We'll be going on many ship excursions, but we also have a couple private tours set up for us — the main one is a 3-day tour in Beijing where six of us will be treated to many of the main highlights of this 6,000-year old capital city.
CLICK HERE
if you'd like to see the cruise schedule.
I've been on the
MILLENNIUM
several times previously, and the crew and staff are marvelous. The ship's Master of the Vessel is really fun, and he attends many of the talks and evening shows — he truly cares about everyone who's on the ship. And Steve, the Cruise Director, and Manuel, the Activity Manager, are awesome folks to work with; they make it so easy for me and all the other speakers and entertainers to put forth our best so the guests have a magnificent time. After all, isn't that what cruising is all about? Of course it is!!!
I hope you follow along on our two-month set of cruises in SE Asia. I know we'll enjoy the journey; I hope you do, also.
---
Happy Travels!
Stuart
---
---
Stuart Gustafson is America's International Travel Expert® who speaks on cruise ships, writes novels, sends out an infrequent newsletter (almost every month!), is an avid TripAdvisor reviewer, and loves everything about travel. Visit his website at www.stuartgustafson.com. You can also connect with him and other travelers on his International Travel Expert page on Facebook at www.facebook.com/International-Travel-Expert-147321228683651/
---
All information and images copyright © 2017 by Stuart Gustafson Productions, LLC. America's International Travel Expert is a U.S. Registered Trademark of Stuart Gustafson Productions, LLC. Ownership of images and content from linked sources remains with those sources or their attributions; no ownership by Stuart Gustafson Productions, LLC, is implied or claimed.
---