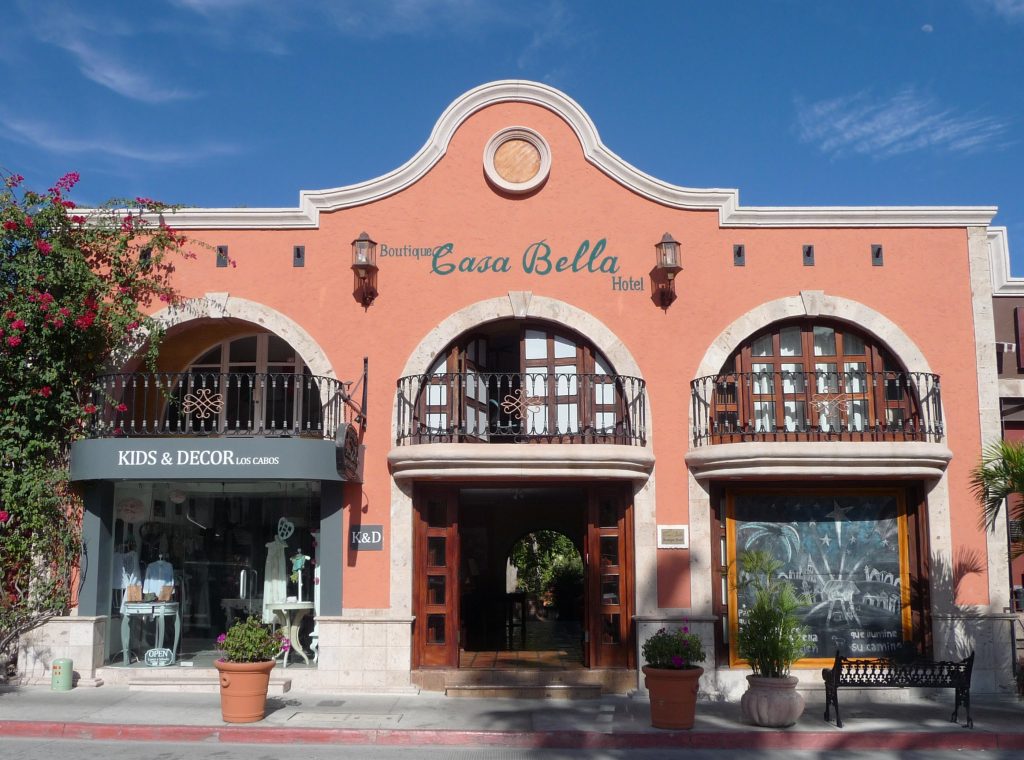 I've been going to Cabo San Lucas, at the tip of the Baja California peninsula, each year since 2003. It started out while I was still working, and I'd go one week a year. A few years later it became two weeks a year, and now it's anywhere from 2 to 4 weeks a visit, and we go up to 3 times a year. So you'd think we would know the area very well. We do, of course, but it's not until you stay somewhere different that you start to explore that "new area."
We just got back from a 2-1/2 week stay — two weeks in a timeshare unit right on the Pacific Ocean (we love watching and hearing the waves!) followed by 3 days in a charming boutique hotel that looks like a family villa straight out of Spain or Italy. Casa Bella was originally designed as a family home for a large family — but then they had only one child, daughter Barbara, who now manages the hotel. It's easy to miss the hotel as you walk along Hidalgo Avenue because its facade blends in beautifully with the other businesses along the sidewalk.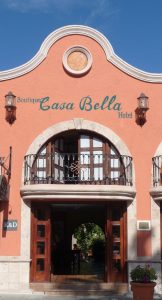 But once you walk through the entrance way into the delightful courtyard, you'll forget that you're in the middle of a major tourist town and only one block away from the famous (and very noisy) Cabo Wabo Cantina. There are about a dozen rooms, all tastefully decorated and with very large bathrooms, and there are two mini-suites up a flight of stairs. There is no elevator, so be ready to carry your suitcase up the stairs.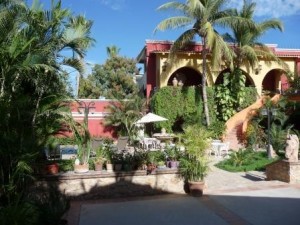 I had previewed this hotel in May 2015 as I was researching locations for an upcoming small-group tour that I'm hosting this April — it's called Los Cabos Highlights Tour — CLICK HERE for tour information. This hotel is going to be just perfect for us because it is quaint, quiet, and very charming.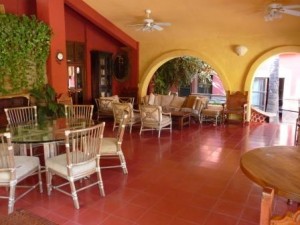 There is a covered terrace area where Barbara and her staff serve a continental breakfast each morning; once you let them know your selections, they automatically bring them out each morning — that beats the service on a cruise ship! It's also a great spot where you can hold an informal business meeting if you're so inclined, or just enjoy the free wifi that's throughout the complex.
The swimming pool is not very large, but just the perfect size for socializing or cooling off after a warm day in town. If you love plants, you'll truly enjoy strolling around and seeing all the different types of palms and other varieties that adorn the open spaces.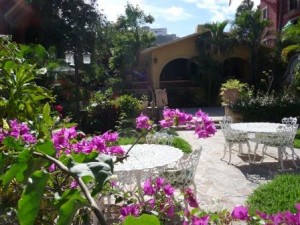 Another benefit of being right in town is that you're able to find small restaurants that are "just around the corner." We found a great sushi place, a new cafe, and Argentine restaurant, and a superb coffee shop — all within one block. There are more, of course, in that area, but you can't go to them all — unless you come back for another stay.
The next time you're planning a visit to a familiar place, check out some places that are new to you on TripAdvisor — you just might be surprised with your new find. I submit reviews of almost every place I go so that I can provide helpful hints to other travelers.
---
---
Stuart Gustafson is America's International Travel Expert® who speaks on cruise ships, writes novels, sends out a monthly newsletter, and loves everything about travel. Visit his website at www.stuartgustafson.com.