Of course I do love to travel — that's one of the reasons I've had the U.S. Registered Trademark America's International Travel Expert® since October 2010.

In addition to my own travels, I also like to conduct Tours!
CLICK HERE for some of my Travel Photos.
---
While traveling isn't only about "the numbers," here are some of mine
Countries visited: 55
Cruise ports: 149
Cruise lines I've been on: 11
Airlines I've flown on: 22
Lifetime paid flight miles on United Airlines: 1,444,850 with lifetime "Million Miler" status
Some favorite places: Los Cabos, Mexico; Paris, France; Sydney, Australia; New York City, USA; Valletta, Malta; Stockholm, Sweden; Nagasaki, Japan
---
Map of the countries I've visited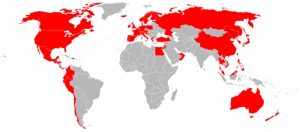 ---
Having visited 55 countries and 149 different cruise ports, I've been on many great voyages as a Cruise Ship Speaker. Curious about the places I've been to and the ships I've been on? CLICK HERE for the details.
---
Interested in an EXCLUSIVE TOUR led by America's International Travel Expert®? CLICK HERE for more information.
---
I personally use visahq for my visa and passport applications. CLICK HERE to to access their fast, convenient, and cost-effect solutions for international travels.
p.s. Did you know that you can now apply for a multiple-entry 10-year visa for China? I got mine!!!
---
Listen to my podcast about Cabo and Baja California Sur with Chris Christensen and The Amateur Traveler: just hit the green PLAY arrow
Amateur Traveler Episode 560 – Travel to Baja Sur and the Sea of Cortez in Mexico

---
---
Privacy Policy — Site Terms — Media Kit
---