For my services as an Independent Travel Agent, please visit travel.stuartgustafson.com.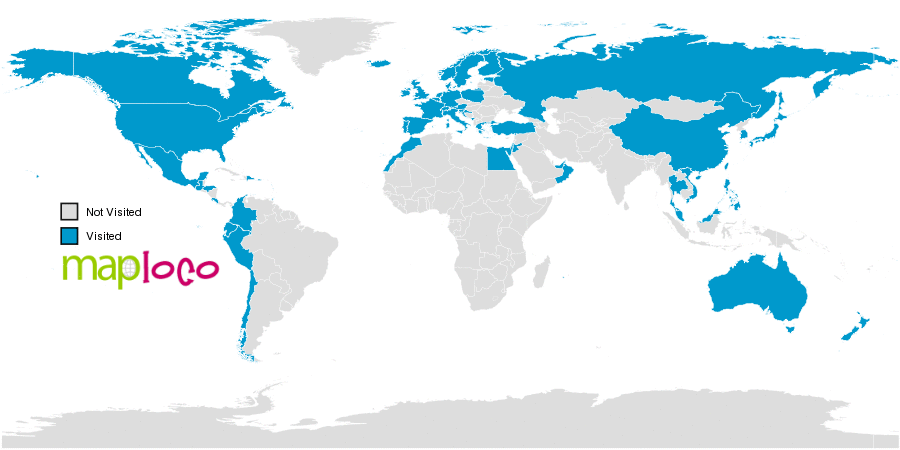 Yes, I love to travel—that's one of the reasons I've had the U.S. Registered Trademark America's International Travel Expert® since October 2010.
One of my goals for 2022 is replace some of those "gray" countries above with "blue" ones. I have three cruises booked that take me to a minimum of 14 new countries (plus others on possible side trips). And I am VERY hopeful for an awesome "Microstates of Europe" tour that would take me to five more new countries (and 12 total on the tour!). Email me if you 'd like to know more about my 2022 travels.

Click Here to see what what travel-related services I offer, including having a Virtual Travel Assistant (VTA) to manage all your travel details.
In addition to my own travels, I also like to lead or help put together small-group tours—click the link for more information.
CLICK HERE for some of my Travel Photos.
---
While traveling isn't only about "the numbers," here are some of mine
Countries visited: 56
Cruise ports: 160+
Cruise lines I've been on: 12; speaker on: 8
Airlines I've flown on: 23
Lifetime paid flight miles on United Airlines: 1,462,443 with lifetime "Million Miler" status
Some favorite places: Los Cabos, Mexico; Paris, France; Sydney, Australia; New York City, USA; Valletta, Malta; Stockholm, Sweden; Nagasaki, Japan
---
Having visited 55 countries and 160 different cruise ports, I've been on many great voyages as a Cruise Ship Speaker. Curious about the places I've been to and the ships I've been on? CLICK HERE for the details.
---
Privacy Policy — Site Terms — Media Kit
---