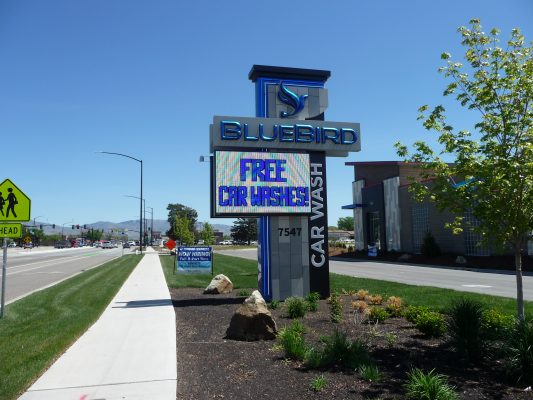 What does a free car wash have to do with a school?
Cole Elementary School in Boise used to instruct youngsters in a classic two-story building that was topped with a bell tower. The school opened in 1888, and one of its first teachers was Ella Cole, wife of the couple who donated part of their farmland for the school.
Now you know how Cole Road got its name.
Hazardous and Noisy location
Deemed as a hazardous and noisy location for an elementary school in 1975 (1974-75 Annual Report of the Independent School District of Boise City), the school held its final "last day of school" on June 5, 2008, and it was demolished in November of 2009.
The lot on the southwest corner of Cole and Fairview sat empty for many years. There were rumors that Albertsons, which is located on the eastern side of Cole Road, would build a new supermarket on the lot, but that never happened.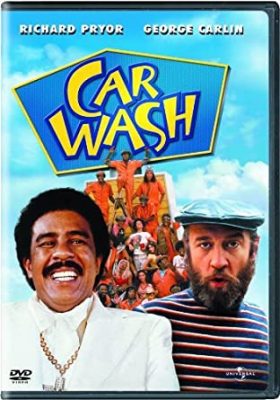 Up from the dirt arose an extension of a Boise business that wants to get that dirt off your car. Bluebird Express Car Wash has opened a new location with its main entrance on Fairview, west of Cole. It's their second Boise location, and there is another one in Ontario, Oregon.
Located at 7547 West Fairview Avenue in Boise (ZIP 83704), they are open from 8 AM to 7 PM every day of the week. Their phone number is (208) 992-4931. According to their website at bluebirdexpress.com, they plan to open more new washes in the Treasure Valley. Right now they have this location on Fairview and one on Overland that was opened in January 2020.
Nice time to open a business
I spoke with Operating Partner John Michael Fery today at the new location, and when I asked him about the Overland car wash, he said, "We opened that one in January of 2020 — nice time to open a new business, right?" Not really, Mr. Fery.
Back to the FREE Car Washes from the first picture. Tomorrow, May 6, is the last day for the free car washes. All you have to do is drive up, and the attendant will press the screen and you're on your way for a free card wash.
I'm going back to tell all my co-workers about the free car wash!
While I was using the free vacuums, I talked to someone in the stall next to me. I asked her if she knew about the free car washes. "No," Nicole replied. "I needed to get a car wash, and I work down the street so I came here. When I pulled up to pay, the lady said it was free. So I'm going back to tell all my co-workers about it."
As you turn to enter the long tunnel, you are greeted by a well-dressed attendant who guides your car to the perfect position, reminding you to leave the car in neutral and foot off the brake.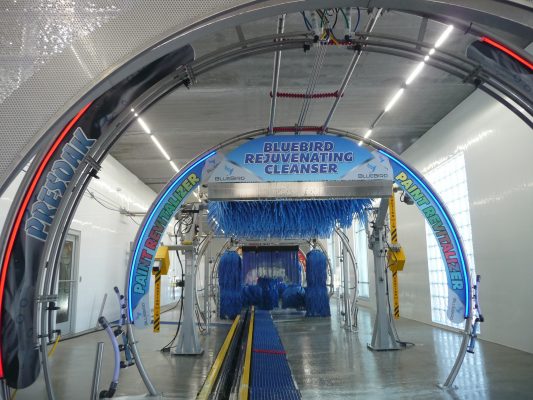 Lights indicate which items are being applied as you go through the system. The free wash I received was their Bluebird Signature + Ceramic, normally an $18.00 "wash" (it's a whole lot more than just a wash) that is certainly top of the line: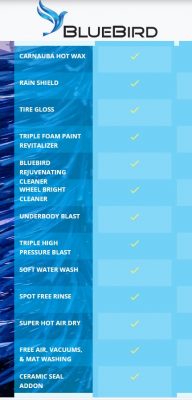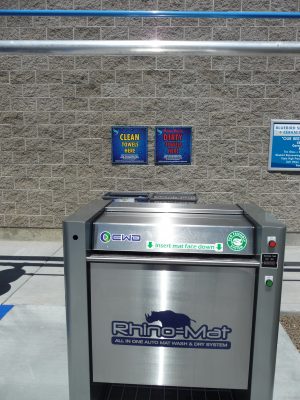 They also provide free towels to wipe down the last drops of water that remain on your car, although I have to admit the towel I used didn't get much water at all. The 20 blowers took almost every last drop off the car — that's better than most! And you can even put your floor mats through the special machines to clean them.
ALL AT NO ADDITIONAL COST!
Everything we do has to be the best!
That's the motto that John Michael Fery said is the signature saying behind that Bluebird Express Car Wash does. Whether it's the products used, to their filtration and recycling processes, to the staff, and their appearances.
Operating Partner Fery said that most of their monthly unlimited customers get their cars cleaned about three times a month. With just two visits, the unlimited plan pays for itself. And it's simple and convenient. Just go online to bluebirdexpress.com/pricing/ and select the plan you want. There is even a separate lane for monthly members.
As you drive down Fairview in Boise, you're bound to see the NOW OPEN sign at Bluebird Express Car Wash. My car looks so much nicer after today's visit — yours can too!
---
Stuart Gustafson is America's International Travel Expert® who writes novels and loves everything about travel. Visit his website at www.stuartgustafson.com. You can also connect with him personally on Facebook and/or with him and other travelers on his International Travel Expert page on Facebook at www.facebook.com/International-Travel-Expert-147321228683651/
---
All information and images copyright © 2014-2021 by Stuart Gustafson Productions, LLC (unless stated otherwise). America's International Travel Expert is a U.S. Registered Trademark of Stuart Gustafson Productions, LLC.
---