After a couple days in Singapore to rest up after our 17.5 hour flight from San Francisco, we checked out of our hotel near Chinatown and took a taxi to the Mari Bay Cruise Centre. Along the way we passed the iconic Marina Bay Sands Resort, the tall tri-tower hotel with the "ship" on top connecting the three towers. In the background we could see the Singapore Flyer with its 28 cabins that make one complete revolution every 28 minutes. As we went through thte Gardens by the Bay we could see some of the metal sculpture Supergrove Trees that are quite the lighted sight at night. Arriving at the terminal, our check-in process was super-efficient and we were on board the Celebrity MILLENNIUM sipping a glass of champagne by 12:40.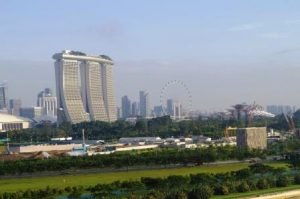 Our sailaway began about 6 PM under a sky of gray clouds that eventually opened up to wet the decks. Spirits weren't dampened, however, as the guests were excited to begin our journey through Southeast Asia. The special cocktail, Singapore Sling, helped to brighten the mood along with the party band playing some high-energy songs.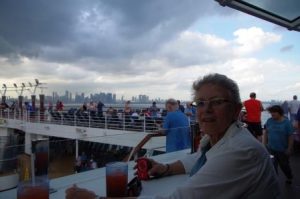 The first two days were spent at sea as we sailed east and then north into the Gulf of Thailand where we docked in Laem Chabang, Thailand. We did a long tour on our first day in port, going into Bangkok – a 2+-hour drive each way. I thought our first stop – Suan Pakkad Palace Museum, aka, "Cabbage Field Museum" – was going to be very interesting. The garden area was nice, but the decaying wooden walkways and the rushing from "house" to "house" made the visit less than memorable.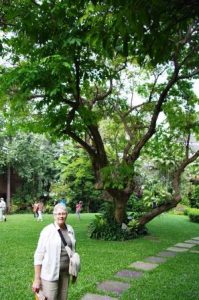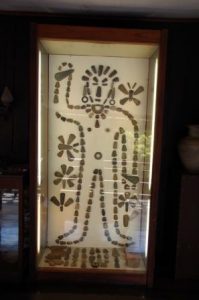 Because King Rama IX died recently, streets around the Grand Palace were barricaded and so we had to walk about a mile in the heat to get to the entrance. The place was crowded with tourists and school children. Once inside our main sights were the Emerald Buddha – Thailand's most revered image of Buddha – and a few other ornate buildings and structures.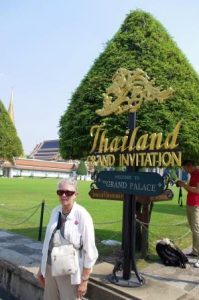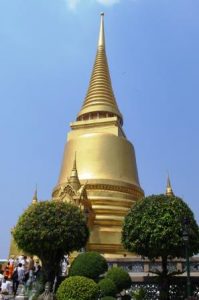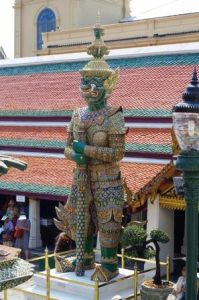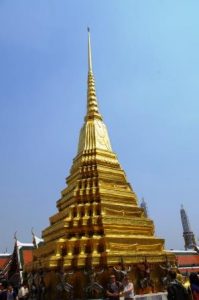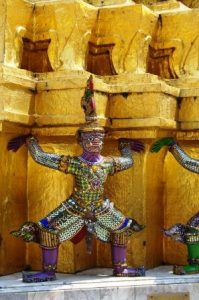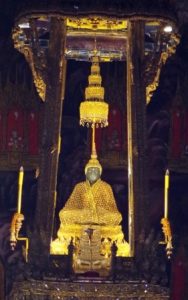 Leaving the Grand Palace we once again set out on foot, this time walking to the Temple of the Reclining Buddha. It is difficult to take it all in as he 46.5 meter statue is in a building that was built to house it, not to display it.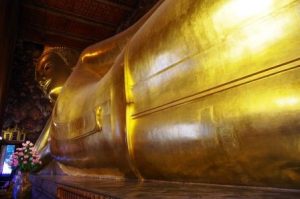 We all boarded three-wheeled tuk-tuks for a ride around the city. These little "taxis" can dart in and out of traffic, making them a desired choice for the locals. We went up and down so many streets and traffic circles in our 25-minute venture around the super-crowded city, ending up at our lunch hotel where we re-boarded our bus to head back to the ship.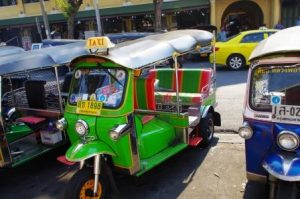 It was a long day, and it was nice to get to the cool environment of the ship
Our second day was much shorter. Our bus ride into the beach town of Pattaya was less than an hour to our first stop, the Sanctuary of Truth. The massive wooden structure is very difficult to describe, yet the workmanship that is constantly being done to add to, to repair, etc., is truly unbelievable.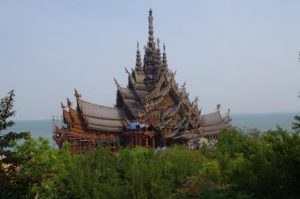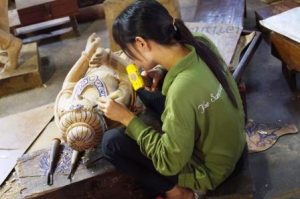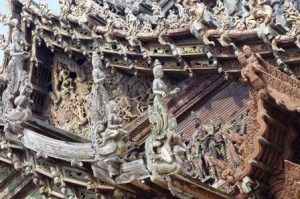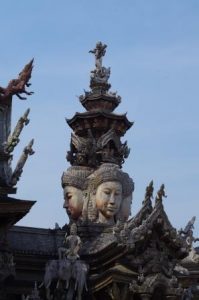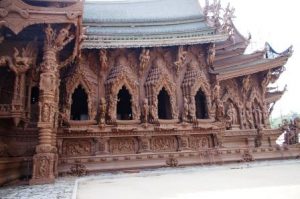 We went for a drive along Pattaya's super-busy beach before arriving at the man-made Floating Market. Basically a tourist trap, it didn't hold much appeal to us. What was good, however, was the large bottle of Singha Beer for under three dollars – that was nice.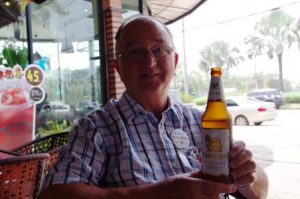 Then it was time to re-board the bus back to the ship so we could head back out to sea and make our way to our first port of call in Vietnam.
Happy Travels!
Stuart
---
---
Stuart Gustafson is America's International Travel Expert® who speaks on cruise ships, writes novels, sends out an infrequent newsletter (almost every month!), is an avid TripAdvisor reviewer, and loves everything about travel. Visit his website at www.stuartgustafson.com. You can also connect with him and other travelers on his International Travel Expert page on Facebook at www.facebook.com/International-Travel-Expert-147321228683651/
---
All information and images copyright © 2017 by Stuart Gustafson Productions, LLC. America's International Travel Expert is a U.S. Registered Trademark of Stuart Gustafson Productions, LLC. Ownership of images and content from linked sources remains with those sources or their attributions; no ownership by Stuart Gustafson Productions, LLC, is implied or claimed.
---