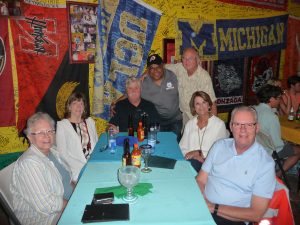 You all know that I love to travel. My love of travel is one of the reasons I've had the U.S. Registered Trademark America's International Travel Expert® since 2010. Although my travels this year didn't take me to as many places as in previous years, I still managed to visit and review 56 restaurants in 2017. The picture above was during my Cabo Highlights Tour in May when we had a delicious (as always!) shrimp and lobster dinner at Maro's.
Here's just one of the many reasons I love this place: There was a queue of about 40 people waiting outside for tables (some couples, some groups of four to eight, etc.) when we arrived on a Tuesday evening. I walked in past all of them to Maro, who shook my hand and said, "How many?" I replied that there were six of us, and he said, "Bring them in; we'll find a place for you." And that was it; he had two tables set up for us and we skipped past the line. That's a definite benefit of eating there several times a year and bringing groups in for the best deal on shrimp and lobster in all of Cabo.
Not all dining experiences are going to be that way, but it's always nice to be treated as a dear friend. I'm always on the lookout for new restaurants to try. If you know of a restaurant that I must try, I invite you to get in touch with me (use the form on my CONTACT page) and tell me where they are and a little about them.
The main thing I'm looking for in a restaurant is good, authentic flavors. I typically don't order a steak, for example, unless the meat is local and truly different. Hey, I can cook a steak at home, and I do a pretty good job of it. So show me something different. What does this restaurant have that others don't? And the place doesn't have to have a Michelin-starred chef for it to have good food. Quality, taste, presentation. It doesn't have to be fancy or elaborate, just good! And make it so that I want to come back. As you look through my Restaurant Reviews, when you see a place reviewed more than once — they know how to do it right!
This year, I reviewed local restaurants, restaurants in adjacent countries, as well as restaurants around the world. Even though I didn't visit France this year (and you know how much I truly enjoy Paris!), I did have an amazingly delicious French dinner at a new restaurant, île de France, situated in the main building of the brand new Ventus at Marina El Cid Beach & Spa Resort in the Cancun-Riviera Maya area. The food is authentic French; our Sommelier Wilfredo presented us with choice selections and pairings for each course, and the meal was magnificent! Read more about this great restaurant on my île de France Restaurant Review
USA, Mexico, Hong Kong, Vietnam, Singapore — these are a few of the countries I visited this year. To read through some or all of my 56 Restaurant Reviews of 2017, all you have to do is CLICK HERE. Do let me know if you see any restaurants you've been to, and tell me how your experience there was.
I hope your 2017 was memorable, and here's to an amazing 2018!

---
Happy New Year and Happy Travels!
Stuart
---
---
Stuart Gustafson is America's International Travel Expert® who speaks on cruise ships, writes novels, sends out an infrequent newsletter (almost every month!), is an avid TripAdvisor reviewer, and loves everything about travel. Visit his website at www.stuartgustafson.com. You can also connect with him and other travelers on his International Travel Expert page on Facebook at www.facebook.com/International-Travel-Expert-147321228683651/
---
All information and images copyright © 2017 by Stuart Gustafson Productions, LLC. America's International Travel Expert is a U.S. Registered Trademark of Stuart Gustafson Productions, LLC. Ownership of images and content from other sources remains with those sources or their attributions; no ownership by Stuart Gustafson Productions, LLC, is implied or claimed.
---