Thursday, October 17
Greetings from Lisboa (as Lisbon is called here in Portugal). Darlene and I are here on our "pre-night" before the start of our 17-day Globus tour that takes us through parts of Portugal, 7 days in Morocco, and then some time in Spain before finishing in Madrid. (Thanks for putting this together, Cheryl at Hey Wanna Go for organizing this for us). We flew from Boise to Denver and then on to Newark where we spent the evening. We've gone full-day from Boise to Europe before, and they've been tough trips. This day break was nice.
[Click on thumbnail images for full size]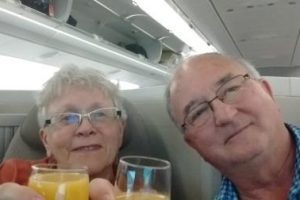 We boarded our TAP Portugal flight in Newark, flying on an Airbus 330-neo, sitting in the middle seats in Business Class. The good news is that it as only a 6-hour flight to Lisbon. The only problem with that is only a couple hours to actually sleep in the lie-flat seats after eating (which was delayed due to turbulence). But it was still an enjoyable flight.
One of the passengers on the flight one row up from us recognized me as "the best cruise ship speaker" she and her [now-deceased husband] had ever experienced. His name was also Stuart, and so we had bonded on that SE Asia cruise two years ago. She was heading to Barcelona for a nice-sounding 6-week cruise to Brazil.
Our transfer driver was there for us as we exited Customs, holding his GLOBUS sign with our names on it. It was a short ride ride to our hotel, where we were able to get into a room at 8 AM. We'd not gotten much sleep on the flight, so we actually slept for 8 hours in the room before getting up and heading out for a bite to eat.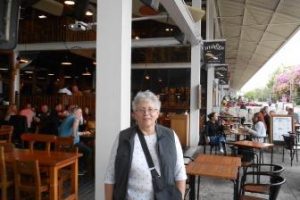 We asked at the hotel for a place to eat, and the first place the young man recommended was an Irish Pub. We love Irish Pubs, and have visited them all over the world.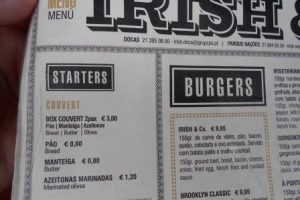 We've seen many different appetizers, but I've never seen "Butter" listed as one. (No, we didn't try it). Another thing Darlene noticed as she looked at the menu was that it said KIDS, Under 12. I told her, "Don't even look at the prices for Kids, under 12. Ours are in their 30s and I'm not doing that again."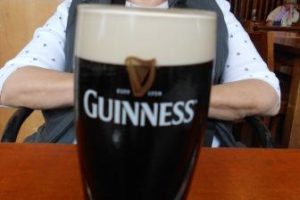 Darlene likes Guinness beer; I am more for the lighter style. This is a trick photo in that it is only a 1/2 pint. I just focused more on the glass!!!
That's it for our first "day" in Lisbon. Our tour begins Friday evening at 6 PM. We're thinking of going on the Hop-On Hop-Off bus tomorrow during the daytime.
---
---
Happy Travels!
Stuart
---
---
Stuart Gustafson is America's International Travel Expert® who speaks on cruise ships, writes novels, sends out an infrequent newsletter (almost every month!), is an avid TripAdvisor reviewer, and loves everything about travel. Visit his website at www.stuartgustafson.com. You can also connect with him personally on Facebook and/or with him and other travelers on his International Travel Expert page on Facebook at www.facebook.com/International-Travel-Expert-147321228683651/
---
All information and images copyright © 2014-2019 by Stuart Gustafson Productions, LLC. America's International Travel Expert is a U.S. Registered Trademark of Stuart Gustafson Productions, LLC.
---