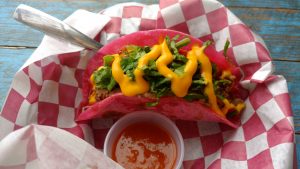 How fitting that today is Valentine's Day and I am writing this post about something PINK. Yes; you read the heading correctly,
Sancho's Cantina
along the marina in Cabo San Lucas is famous for its
PINK TACO
. Whats the story behind the Pink Taco? Well . . .
Watch this YouTube video (2:30) for the story behind the Pink Taco and how it's put together.

They start with specially made pink flour tortillas. As Margo explained, the first one is fried into a hard shell and then all the trimmings are loaded inside and topped with some nacho cheese. (Both of us had the ground beef one) All of that is then wrapped in a soft flour tortilla (pink, of course) that has some rice and beans just in case the crispy one breaks—thus the fork. Ours didn't break so we just enjoyed the tasty delight as some of the sauce slowly dripped down our hands.

Watch the short YouTube video (0:54) and see why we enjoyed the Tortilla Soup and the Pink Taco.

We started with a shared bowl of tortilla soup that had the flavor just right. It could have been a meal for one if we'd added a few shrimp to it, but I'm glad we had it as it was; it was a nice introduction to the tacos. We asked what beer we should have and we were served Doz Equis Amber — perfectly chilled!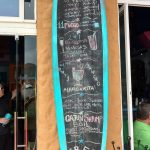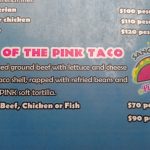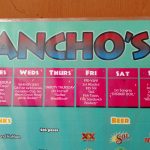 When you're along the marina in Cabo, stop in at Sancho's (it's near the end by dock "muelle" L) — right next to where the Old Hooter's used to be. Margo is the super friendly, and very busy, co-owner who always has a smile for everyone. So stop and say "Hola," and have a PINK TACO

Take a quick look inside Sancho's with this 30-second YouTube video.

---
Happy Travels!
Stuart
---
---
Stuart Gustafson is America's International Travel Expert® who speaks on cruise ships, writes novels, sends out a monthly newsletter, is an avid TripAdvisor reviewer, and loves everything about travel. Visit his website at www.stuartgustafson.com. You can also connect with him and other travelers on his International Travel Expert page on Facebook at www.facebook.com/International-Travel-Expert-147321228683651/
---
All information and images copyright © 2018 by Stuart Gustafson Productions, LLC. America's International Travel Expert is a U.S. Registered Trademark of Stuart Gustafson Productions, LLC. Ownership of images and content from other sources remains with those sources or their attributions; no ownership by Stuart Gustafson Productions, LLC, is implied or claimed.
---
Note: This was a SPONSORED visit meaning that the restaurant and/or its public relations firm covered all my expenses in exchange for my writing an unbiased review. Regardless, the review is purely my subjective view of the service and perceived value received had I been paying for it in full myself. I am disclosing this in accordance with the Federal Trade Commission's 16 CFR, Part 255: "Guides Concerning the Use of Endorsements and Testimonials in Advertising."

---