I'm not a jeans guy. I don't think I ever wore a pair before I moved to Idaho at the age of 45. After moving to Idaho (where almost everyone wears jeans), I started wearing them once in a while; never to work, though. But they weren't comfortable. I think I now know why. I was buying inexpensive (aka, "cheap") store-brand jeans.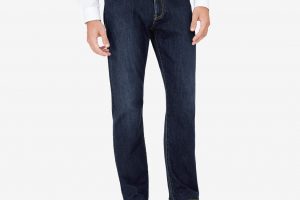 That all changed with the jeans I have on right now. In fact, this is the sixth straight day of wearing these Departure Jeans by Bluffworks, and they look just as good as on the first day. Fit. Comfort. Style. These jeans have it all.

But there's another VERY IMPORTANT reason why I like my new Bluffworks jeans. As America's International Travel Expert®, I do travel a lot. I used to wear a different brand of pants for travel, and when I was in a place where someone might try to steal my wallet (it has happened!). Functionally, they did the job. But the cargo-pants look with all the flaps and buttons defintely detracted from the looks. When these Departure Jeans arrived in the mail, I actually had to look hard to find the hidden zipper pockets.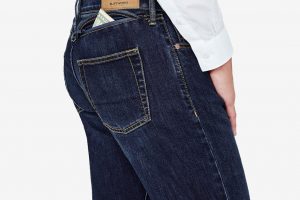 The hidden pockets are there; the fashionable styling just doesn't make them obvious. The stretchable fabric feels so good and I no longer have to suck in my breath to be able to fasten the top button and zip up the zipper.

I'm flying off to Norway in a couple weeks where I'll be speaking on two 15-day cruises. These new jeans will be a major part of my wardrobe. I'll be wearing dress slacks and a blazer (also from Bluffworks) for my talks, of course, but the jeans will be my primary pair of pants during most days (AND for my flights!). I've tried on the slacks and blazer, and I'll be writing about them after my first talk on the ship. I expect that they will be just as comfortable as the jeans.
---
---
Happy Travels!
Stuart
---
---
Stuart Gustafson is America's International Travel Expert® who speaks on cruise ships, writes novels, sends out an infrequent newsletter (almost every month!), is an avid TripAdvisor reviewer, and loves everything about travel. Visit his website at www.stuartgustafson.com. You can also connect with him personally on Facebook and/or with him and other travelers on his International Travel Expert page on Facebook at www.facebook.com/International-Travel-Expert-147321228683651/
---
All information and images copyright © 2014-2019 by Stuart Gustafson Productions, LLC. America's International Travel Expert is a U.S. Registered Trademark of Stuart Gustafson Productions, LLC.
---
Note: I received this clothing in exchange for writing an unbiased review. Regardless, the review is purely my subjective view of the clothing and perceived value received had I been paying for it in full myself. I am disclosing this in accordance with the Federal Trade Commission's 16 CFR, Part 255: "Guides Concerning the Use of Endorsements and Testimonials in Advertising."