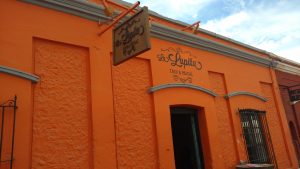 When David Camhi decided to open La Lupita Taco y Mezcal in San José del Cabo, many people thought he was crazy. Not just crazy for opening a "taco place," but because the locals had tasted thousands and thousands of tacos in their lives–they knew what good tacos were. Did David know what good tacos were? He thought he did.

It turns out that he did know what a good taco was, and it's not just a tortilla with a filling of beef or pork or maybe even a piece of fish or shrimp. No, for David a taco was just the beginning of an amazing experience. It also turns out that David knows a lot about food, and one of the really valuable things he knows about food is the importance of have an amazing chef in the house. And he has just the person in Pia, a super-sharp talent who's appeared on the television show "Top Chef."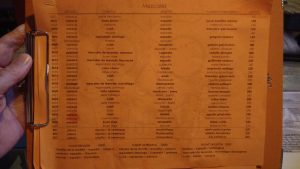 But before I began to enjoy some of Pia's tacos, David wanted to tell me a little about Mezcal. You can see in this photo the array of mezcals that he currently has on hand at La Lupita. Considering that some of the bottlings are a total of only 150 bottles, the list of what's available can be a moving target. David told me about the different plants from which they get the mezcal: Espadín, Cuish, Cenizo, Papalόmetl, Arroqueño, Tepextate, and more. To learn a little more about mezcal, watch my 3-minute YouTube video where David gives me an introduction to mezcal. I thought mezcal was like tequila, but David made sure I understood the difference and why mezcal has more variety and flavor palettes. I now know why Mezcal has a smoky flavor and smell to it; it's because they are cooked in a pit in the ground before being mashed. I also was not aware that there are so many different type of mezcal plants; some are ready for harvest in 8 years; some take up to 25 years to mature. That's a long time to wait between harvesting.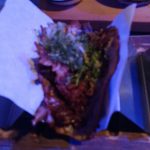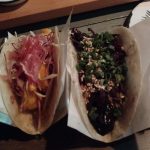 I started with a Cheese Crusted Pastor taco — a folded cheese crust is used as the taco shell instead of a tortilla. The Pastor meat and trimmings are put inside — it was absolutely yummy! I also had some artisanal regional baked cheese from nearby Miraflores. Chef Pia came by and suggested that I have two more tacos, the Duck Mole and their new Taco Guero. As the name implies the Duck Mole taco is shredded duck that has mole drizzled over it enhance the flavor — very good. The Taco Guero was shrimp tempura with Turmeric and Curry. The pickled shredded cabbage made it absolutely flavorful and a great way to finish the meal . . or so I thought.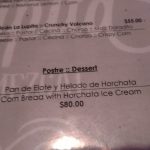 The Corn Bread with Horchata Ice Cream was so-o-o-o good. I wasn't hungry, but the exquisite tastes left me no choice but to eat it all.
You might think that Lupita Taco y Mezcal is "just another taco joint." It's not — it is a taco and mezcal haven for excellence. It's right next to Baja Brewing in the Art District in San José del Cabo.
---
Happy Travels!
Stuart
---
---
Stuart Gustafson is America's International Travel Expert® who speaks on cruise ships, writes novels, sends out a monthly newsletter, is an avid TripAdvisor reviewer, and loves everything about travel. Visit his website at www.stuartgustafson.com. You can also connect with him and other travelers on his International Travel Expert page on Facebook at www.facebook.com/International-Travel-Expert-147321228683651/
---
All information and images copyright © 2018 by Stuart Gustafson Productions, LLC. America's International Travel Expert is a U.S. Registered Trademark of Stuart Gustafson Productions, LLC. Ownership of images and content from other sources remains with those sources or their attributions; no ownership by Stuart Gustafson Productions, LLC, is implied or claimed.
---
Note: This was a SPONSORED visit meaning that the restaurant and/or its public relations firm covered all my expenses in exchange for my writing an unbiased review. Regardless, the review is purely my subjective view of the service and perceived value received had I been paying for it in full myself. I am disclosing this in accordance with the Federal Trade Commission's 16 CFR, Part 255: "Guides Concerning the Use of Endorsements and Testimonials in Advertising."

---