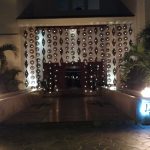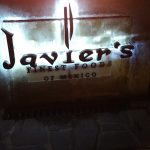 As you wind your way through the elaborate Cabo Azul Resort—Diamond Resorts International's spectacular gem in San José del Cabo in the southern part of Baja California—you might think you are walking through a peaceful jungle. That's just the beautiful vegetation and water features that help to make this vacation resort so relaxing and inviting. You know you're about to embark on a magnificent experience when you reach the entrance to the spectacular Javier's Restaurant—you have arrived!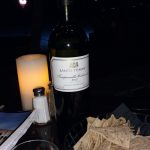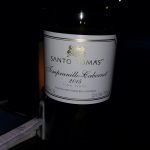 The light 7 PM breeze from the Sea of Cortez was cool enough for some diners to ask for a blanket on their shoulders, but we were fine. The breeze died down shortly afterward and it the rest the evening was very pleasant. We could hear the waves assaulting the shore as they crashed; we always love that sound (so long as we are safely away from them). Our server Gregorio was every bit charming, helpful, and polite. Rather than having a cocktail, we had a bottle of Santo Tomas Tempranillo-Cabernet wine, a very nice blend of Mexican and Spanish varietals. It turned out to be a perfect complement throughout the entire meal; even with the introductory basket of chips and a somewhat-spicy (but tasty) salsa.

Watch the YouTube video (2:59) of the Mariachi foursome playing a "happy song" for us.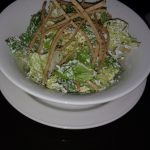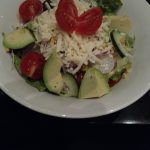 I started with the Javier's Salad (no shrimp or chicken) that consisted of fresh greens with slices of avocado, onion, tomato, cucumber, sweet corn, grated Monterrey Jack Cheese, and a very nice house dressing. It was all very good, especially the generous portions of avocado!
Darlene had the "Traditional Mexican Caesar Salad" served with chopped Romaine lettuce, crispy tortilla strips (those were a great addition), and a light Caesar dressing. We were told that when locals have a Caesar Salad, they don't like a strong dressing; so the restaurant (in keeping with local flavors) uses a lighter dressing. She said that the crispy tortilla strips really made the salad into something special; we'll have to give that a try at home!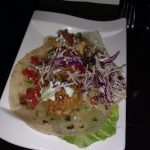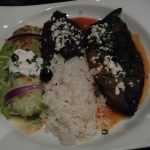 While Sea Bass as the Catch of the Day sounded nice, we typically do eat a lot of fish, and so we opted for the Especialidades del Mar, the "Specialties of the Sea." I had the Cabo Azul which was a Shrimp Taco (on a separate plate), prepared Ensenada Style and served on a flour tortilla (waiter Gregorio recommended that I eat this first). The second plate had the Lobster Enchilada in a light creamy pasilla sauce, and a grilled Chili Relleno stuffed with shrimp and topped with cotija cheese. The rice and black beans filled out the plate. I was able to eat the taco, half the enchilada, and half the relleno. The rest of the second plate was put into a container that is now in our refrigerator.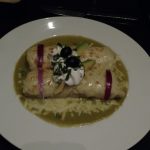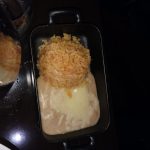 Darlene had the Seafood Enchiladas, a plate of two enchiladas that were stuffed with shrimp and crab, sautéed in garlic and onions, then covered in a tomatilla sauce and garnished with avocado slices and sour cream. Her second "plate" was a small baking dish that held the rice and the beans that were covered with a melted cheese. Feeling that she might not be able to eat it all, Darlene neatly ate one of the enchiladas, while the second one plus the remaining rice and beans have also ended up in a container that is now in our refrigerator. We definitely have some nice food to enjoy as snacks or great lunch items!

Watch the brief YouTube video (0:38) of our dinner.

The next time you are thinking of having a relaxing and AMAZING dinner when you're in San José del Cabo (or drive up from Cabo San Lucas as we did), come to Javier's Restaurant inside the Cabo Azul Resort along the hotel zone. You'll love the food, be enchanted with the view (even at night), and you'll be charmed by the wonderful service!
---
Happy Travels!
Stuart
---
---
Stuart Gustafson is America's International Travel Expert® who speaks on cruise ships, writes novels, sends out a monthly newsletter, is an avid TripAdvisor reviewer, and loves everything about travel. Visit his website at www.stuartgustafson.com. You can also connect with him and other travelers on his International Travel Expert page on Facebook at www.facebook.com/International-Travel-Expert-147321228683651/
---
All information and images copyright © 2018 by Stuart Gustafson Productions, LLC. America's International Travel Expert is a U.S. Registered Trademark of Stuart Gustafson Productions, LLC. Ownership of images and content from other sources remains with those sources or their attributions; no ownership by Stuart Gustafson Productions, LLC, is implied or claimed.
---
Note: This was a SPONSORED visit meaning that the restaurant and/or its public relations firm covered all my expenses in exchange for my writing an unbiased review. Regardless, the review is purely my subjective view of the service and perceived value received had I been paying for it in full myself. I am disclosing this in accordance with the Federal Trade Commission's 16 CFR, Part 255: "Guides Concerning the Use of Endorsements and Testimonials in Advertising."

---