It's estimated that there are over one million visitors to Italy's Leaning Tower of Pisa each year. Certainly there aren't that many that trek to the beachfront town of Puerto Morelos in the state of Quintana Roo along Mexico's Caribbean sea coast. But those who do go there can visit a site that is just as interesting as that tower in Pisa. Called Faro Inclinado (Leaning Lighthouse), this structure was built in 1946 as the second lighthouse in the area.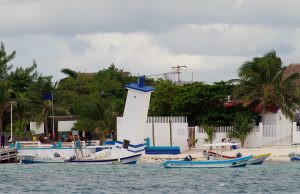 Twenty-one years after it was built, this 33-foot structure was hit hard by Hurricane Beulah, and most of the foundation was washed away. But rather than tearing the structure down, the townspeople decided to paint it a bright white with blue trim — the blue is a nice reminder of the beautiful Caribbean water that contributes so much to the local economy. Although no longer in service, Faro Inclinado is a local landmark that the people truly appreciate. It's also a statement that no matter how hard the weather might hammer the shore, the people's spirits can't be dissuaded.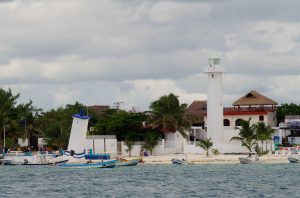 It took over a dozen years after that hurricane for another lighthouse, stronger and taller to be built. It, too, was damaged in Hurricane Wilma in 2005, but it needs only slight repairs and some painting. Once again the local spirit and strength of the people persevered.

When you go Puerto Morelos along the Riviera Maya, check out the two El Cid Resorts, including the newest one, Ventus at Marina El Cid Beach & Spa resort. The treatment you'll receive from the warm-hearted employees will make you wonder why you'd not been there before. You'll get to know #TheFeelingOf AMAZING!
---
Happy Travels!
Stuart
---
---
Stuart Gustafson is America's International Travel Expert® who speaks on cruise ships, writes novels, sends out an infrequent newsletter (almost every month!), is an avid TripAdvisor reviewer, and loves everything about travel. Visit his website at www.stuartgustafson.com. You can also connect with him and other travelers on his International Travel Expert page on Facebook at www.facebook.com/International-Travel-Expert-147321228683651/
---
All information and images copyright © 2017 by Stuart Gustafson Productions, LLC. America's International Travel Expert is a U.S. Registered Trademark of Stuart Gustafson Productions, LLC. Ownership of images and content from other sources remains with those sources or their attributions; no ownership by Stuart Gustafson Productions, LLC, is implied or claimed.
---