EL MERKADO – Dining Experiences for a Variety of Food Palettes

The two-story corrugated metal building with a brick annex sitting alongside the busy highway that connects San José del Cabo and Cabo San Lucas at the tip of the Baja peninsula seems an unlikely place for gastronomic delights. Remember the saying, "Don't judge a book by its cover"? That applies here because you will begin to appreciate what's being prepared inside even before you're inside. The wafting aromas of various flavors will greet you and beckon you to enter El Merkado. And that's when the difficult decisions begin. Which of the choices are you going to pick today? How do you choose between local Mexican specialties and fresh Yellowtail sushi or sashimi? Or the Napolitano pizza baked in the brick oven? Choices upon choices!
It is precisely that – a variety of choices – that was behind the design of this dynamic dining warehouse at the front of the two-year old Koral Center along the Transpeninsular highway between San José and San Lucas. The slogan at El Merkado is "Where friends and families come to meet, greet, shop, and eat," and that is evident by the family-style tables where you can bring your food from any of the restaurants so you can all sit together, eat, and enjoy your conversation. Who knows? You might even strike up a conversation with a former stranger.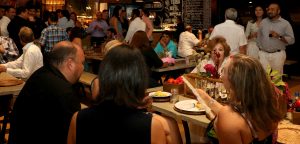 Let's take a stroll through El Merkado, and see what selections are available for you to enjoy. Coming in through the front entrance near the highway, we walk up a few steps, turn to the right, and the fun begins; we're at our first restaurant, and it's known by the locals and by many, many visitors for its famous tables and blue umbrellas sitting at water's edge along Medano Beach. No beach sand or waves here, but it's a great place to begin our journey as we go counter-clockwise through the halls.
The Office Cantina – pretend you're at the beach as you enjoy a refreshing cocktail or cold beer along with delicious Tacos or bite-sized Tostadas
Green & Sweets – Whether it's dessert after lunch or dinner, or something sweet to take home, you'll find a wide variety of tasty treats here
Tea Shop from Manoma Spa – Buy tea bags or loose tea for that quiet and calming beverage
The Wine Shop (bottled wines) – looking for that nice bottle of wine for the weekend party? Stop in here and peruse their nice selections
El Armario Boutique – Cute and affordable clothing items that are perfect for the Los Cabos weather
Quesadillas – Tasty Mexican specialties prepared with their own hand-made tortillas
La Carreta – genuine Oaxacan food: tacos, tlayudas; traditional beverages
Gyaros – original gyros and other Greek foods
Pan di Bacco – Italian food and freshly baked breads with a genuine pizza oven
Akira Sushi & Sashimi – the freshest seafood prepared in traditional Japanese-styled sushi rolls and sashimi plates that will please your taste buds
CarbόnCabrόn – delicious meat and other delicacies cooked over open wood fire


Heading upstairs we begin with

El Pancake "y lo nuestro" – amazing breakfast items (pancakes plus "our [Mexican] foods"), and they also have the traditional lunch menu items
Oyster Bar – fresh delicacies from the sea, including clams, oysters, ceviches, tacos, and tostadas
Big Tony – Hamburgers and sandwiches from Big Tony who also has Zipper's and Molly's in San José del Cabo
Cabo BBQ – cafeteria style barbecue items, by the weight as you serve yourself


Back downstairs, outside in the plaza, we have two more places to visit

GROUND Burgers – you got it; hamburgers
Ufficio Caffe – coffees and Italian foods; part of Pan di Bacco inside

Now that you've had your mini tour of El Merkado at Koral Center, what are you waiting for? Plan your next lunch or dinner, especially with friends, at El Merkado — where friends and families come to meet, greet, shop, and eat. It is conveniently located at KM 24.5 on the Corridor adjacent to the Pemex station.
---
Happy Travels!
Stuart
---
---
Stuart Gustafson is America's International Travel Expert® who speaks on cruise ships, writes novels, sends out an infrequent newsletter (almost every month!), is an avid TripAdvisor reviewer, and loves everything about travel. Visit his website at www.stuartgustafson.com. You can also connect with him and other travelers on his International Travel Expert page on Facebook at www.facebook.com/International-Travel-Expert-147321228683651/
---
All information and images copyright © 2014-2018 by Stuart Gustafson Productions, LLC. America's International Travel Expert is a U.S. Registered Trademark of Stuart Gustafson Productions, LLC.
---