It's no secret that El Squid Roe has been the top nightlife scene in Cabo San Lucas for years and years. Now that that's established, we can move on to the food. . . . I arrived at 8 PM, and Chef Manny was all set to prepare a most excellent meal for me. It started with my waiter Luis making a great tomato salsa right at the table. You need to watch my YouTube video to see how much effort goes into making this great salsa.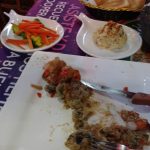 After the portable gas two-burner stove was wheeled over, Chef Manny started to marinate 5 huge shrimp in some Chardonnay and a couple spices. As he heated the pan with oil and butter I knew I was in for a treat. The final result was a plate of gorgeous shrimp (watch the YouTube video as he works his magic) served with sides of vegetables and a potato salad. While I was enjoying his creation, he came by to remind me to save a little room for dessert.

The portable stove came back as a two-inch thick pineapple slice was rolled in cinnamon and sugar. A heated pan with butter and Grand Marnier was used to sautée the pineapple to just the right consistency. The strawberries on top with ice cream and whip cream made the tasty treat even more tempting. If you can take one more video here is Chef Manny preparing my dessert.

All in all, the service was excellent and the food was more than one could expect from a place known more for the dancing and the bar scene. This all goes to prove that when you have an amazing chef like Manny, be prepared for an amazing meal.
p.s. I've also posted a YouTube video of the bartenders dancing on the bar!
---
Happy Travels!
Stuart
---
---
Stuart Gustafson is America's International Travel Expert® who speaks on cruise ships, writes novels, sends out a monthly newsletter, is an avid TripAdvisor reviewer, and loves everything about travel. Visit his website at www.stuartgustafson.com. You can also connect with him and other travelers on his International Travel Expert page on Facebook at www.facebook.com/International-Travel-Expert-147321228683651/
---
All information and images copyright © 2018 by Stuart Gustafson Productions, LLC. America's International Travel Expert is a U.S. Registered Trademark of Stuart Gustafson Productions, LLC. Ownership of images and content from other sources remains with those sources or their attributions; no ownership by Stuart Gustafson Productions, LLC, is implied or claimed.
---
Note: This was a SPONSORED visit meaning that the restaurant and/or its public relations firm covered all my expenses in exchange for my writing an unbiased review. Regardless, the review is purely my subjective view of the service and perceived value received had I been paying for it in full myself. I am disclosing this in accordance with the Federal Trade Commission's 16 CFR, Part 255: "Guides Concerning the Use of Endorsements and Testimonials in Advertising."

---