September 13, 2016 — onboard the Celebrity MILLENNIUM
Unless you've cruised through the Aleutian Islands or you're a fan of the television show The Deadliest Catch, you've probably not heard of Dutch Harbor, Alaska. It is a small town with a permanent population of about 4,000 residents so it's a big deal when a cruise ship holding 3,000 passengers arrives.

As the Celebrity MILLENNIUM pulled into port a few days ago, we felt appreciated by the locals as they dispatched all four of their school buses to ferry us from the dock to the town's main meeting place, the Safeway grocery store! I think it's also the place with the largest parking lot as many municipal services were there on display: Fire, Police, Paramedics. I was one of many who decided to walk the two miles since we'd just had four consecutive sea days — it was nice to be on solid ground. On the way to town I passed the airport, and it's one of those that stops the road traffic if a plane is crossing the road while taking off or landing.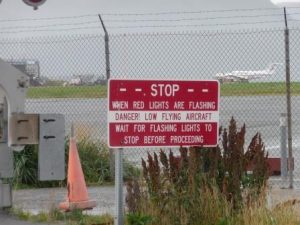 I made it to Safeway, bought some postcards, jotted a few notes, put the mailing labels on them, and mailed them at the nearby Post Office.
A real highlight in town is the Aleutian Islands World War II Museum.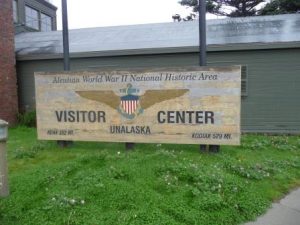 It's not a very large building, but it has a small movie room and an upper floor with additional exhibits. They opened early for us and it was nice to see that there is no entrance fee for veterans — that's a classy move.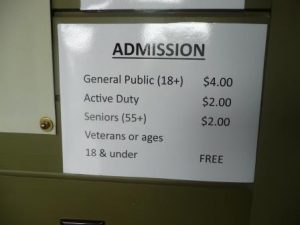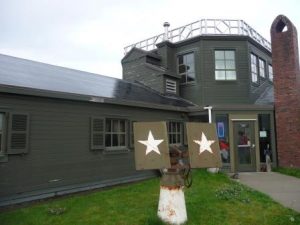 I continued my walk across the Captain's Bay Bridge to the actual island of Unalaska; the ship is docked at Amaknak Island. One of the main sites here is the Russian Orthodox Church, aka, Church of the Holy Ascension. The church was not open for tours but we were able to stroll around the grounds and take photos.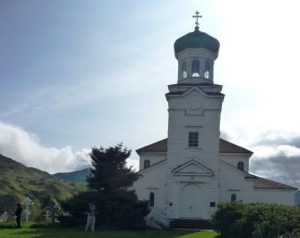 The ship tied up in a commercial docking area in the Iliuliuk Bay, and there is a small river on Unalaska Island that feeds out of the bay into Unalaska Lake. Huge salmon were spawning in that river, and it was an incredible sight to see. In addition to the photos below, I've also posted some videos on my YouTube Channel (https://www.youtube.com/user/Stuart1947Gustafson)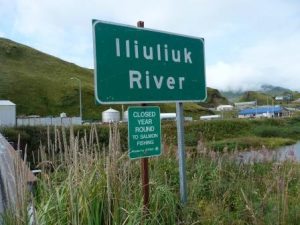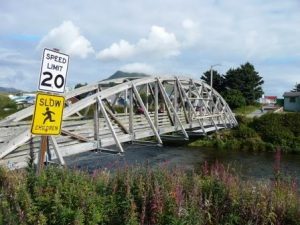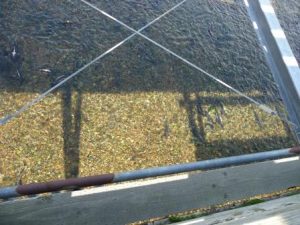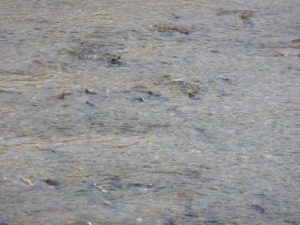 According to the meticulously detailed map provided by the Unalaska/Dutch Harbor Convention & Visitors' Bureau (Click Here for their website), I had already walked five miles and I hadn't had lunch. I'm not one of those cruisers who runs back to the ship for the "free meal," but I was getting hungry. As I walked back toward the ship (another three miles), I stopped in at the Norvegian Rat Saloon (Yes, it is spelled with a v and not a w).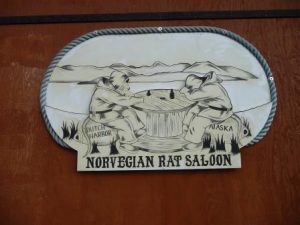 The big lunch crowd (mostly from the ship) — pictured below — had already had their Crab Fest and had departed, so it was much quieter.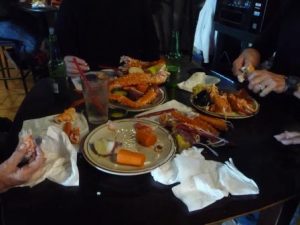 My server Teressa (not to be confused with her sister Teresa; true statement) wore a friendly smile and was very pleasant. I had a delicious Aleutian Sandwich with pastrami and all the fixings; the homemade chips were sprinkled with Parmesan cheese for a nice added touch. And yes, the Alaskan Amber tasted mighty good!
I was going to walk the remaining two miles back to the ship, but the mist outside was getting pretty thick, so I decided that I'd rather stay dry. So I walked over to the "center of everything" — yes, the Safeway — and rode a school bus back to the ship.
For completeness, I did go to the Museum of the Aleutians, which is supposed to be very good. But I don't like it when a place does not post their admission prices in a visible place. The only way to find out how much it costs go inside is to stand in line and then be told by the clerk — I didn't go in.
Happy Travels!
Stuart
---
---
Stuart Gustafson is America's International Travel Expert® who speaks on cruise ships, writes novels, sends out a monthly newsletter (almost every month!), is an avid TripAdvisor reviewer, and loves everything about travel. Visit his website at www.stuartgustafson.com. You can also connect with him and other travelers on his International Travel Expert page on Facebook at www.facebook.com/International-Travel-Expert-147321228683651/
---
All information and images copyright © 2016 by Stuart Gustafson Productions, LLC. America's International Travel Expert is a U.S. Registered Trademark of Stuart Gustafson Productions, LLC.
---