Note: While the tone of this article slants toward European travels, the information is equally attributable to travel within USA, to Asia, South America, Australia, etc.
The U.S. Bureau of Transportation (www.rita.dot.gov/bts/home) released data for airline revenues for excess baggage charges made between 2012 and 2013. And it's no surprise the largest 15 airlines in the U.S. collected additional fees of $3.5 billion for add-on services, including excess baggage. Saving on baggage fees has now become a priority money-saving issue for many Americans traveling abroad.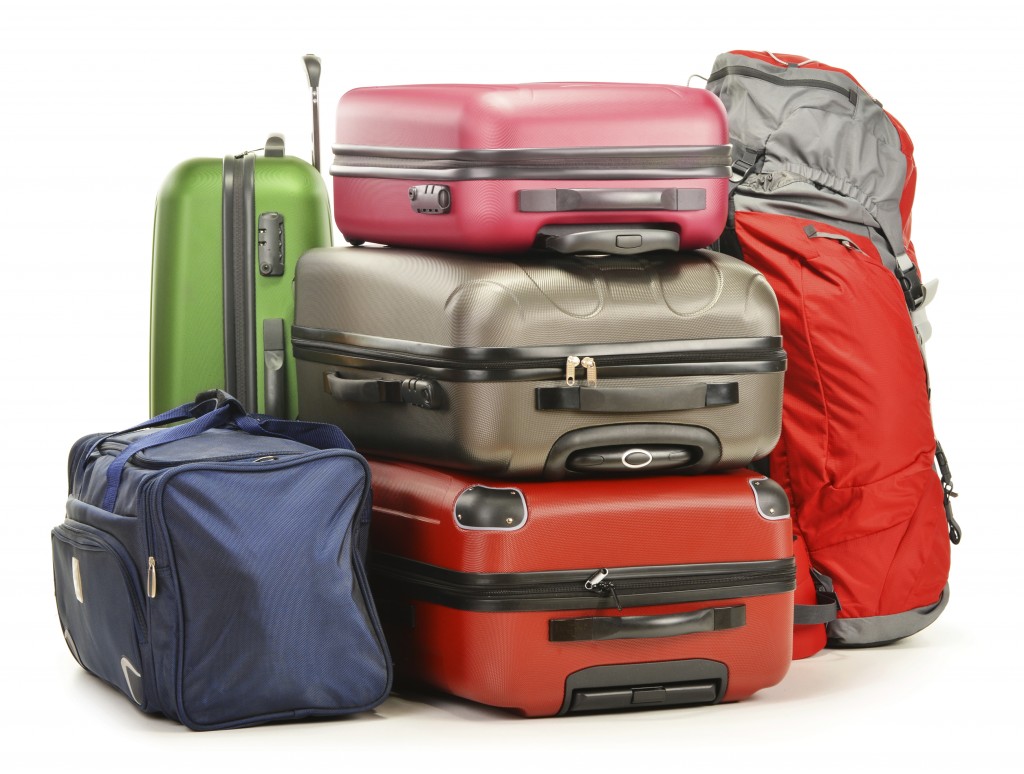 Here are five top travel tips to avoid paying unnecessary charges at the airport and how you can save by booking a courier service.
Travel Tip #1: Research Carriers
Before you buy your ticket, it's worth researching carriers to see how much they charge for checking-in bags. Once upon a time, carriers didn't charge for checking in bags. Today some carriers only charge for checking-in a second bag.
Some airlines, such as American Airlines (www.aa.com), United Airlines (www.united.com), and Delta Airlines (www.delta.com) might charge for all checked-bags, unless you have elite status with them or within their "Alliance." The first checked bag costs $25, the second $35 and the third costs a whopping $150. With this said, it is worth considering how many bags you will need on your trip. When comparing the costs of tickets, don't just look at the airfare; factor in what additional costs which might apply.
Key Takeaway: Just because a ticket appears to be a good deal doesn't actually mean it is. It's essential you total up all the added costs and taxes, before purchasing your ticket.
Travel Tip #2: Buy a Professional Digital Luggage Scale
Once you've done your research and bought your ticket, it's time to buy a luggage scale.
You may think a bathroom scale will do the trick, but if you are flying to Europe and using a budget European carrier like Easy Jet (www.easyjet.com) or Ryanair (www.ryanair.com/gb/en/), it's essential you know the weight of your hand luggage and any baggage you will check in. One or two pounds can quickly tip the scales in the wrong way. The scale you use in your bathroom does not always give an accurate weight. Commercial scales are often one or two pounds lighter than professional scales used by businesses. Budget airlines in Europe regularly make $65.00 (one way) for bags that are less than 7 lbs overweight. Just to put this in perspective this is the same weight of a very small cat.
Key Takeaway: Though many European airports offer facilities to weigh your luggage, you pay to use these scales at the airport. Also if your luggage is overweight, you will need to buy a second suitcase or throw items out. However, with careful research and a professional digital luggage scale, you can avoid these fees. Bed Bath and Beyond (www.BedBathandBeyond.com) sells digital luggage scales for $20.00. You can find many products on eBay for less than $10.00.
Travel Tip #3: Distribute the Weight across Bags
If you find some of your bags are over the weight limit or very near, it's worth dividing weight across bags. In some cases, this won't always be possible or practical. When flying Delta from the US to Europe, it could cost $100 to check-in a second bag. Also bear in mind, on many European carriers, you are only allowed one handbag. A small purse or lady's bag will count toward your one cabin bag allowance. Therefore, you'll need to combine your smaller hand bag with your cabin bag or check excess baggage ahead of your flight. It is strongly recommended that you do not overstuff your hand luggage. Carriers like Easy Jet regularly measure cabin baggage prior and after check-in. Sometimes they will issue excess baggage fees at the gate, so don't think because you've passed your security, your bag is okay to fly.
With Easy Jet, cabin baggage can be no bigger than 50 x 40 x 20 cm (about 20 x 16 x 8 inches) including handles and wheels. While Ryanair allows two bags, it places a weight limit on the first bag of 10 kg (about 22 pounds). The maximum dimensions allowed are: first bag up to 55 x 40 x 20 cm (about 22 x 16 x 8 inches) and 1 small bag up to 35 x 20 x 20 cm (about 14 x 8 x 8 inches). If bag is oversized a fee of £50 will apply, roughly $76.
Key Takeaway: Dividing your weight can save you a lot of time and money. However, there are some circumstances where this will not be an effective solution, particularly with budget airlines.
Travel Tip #4: If You Are Sending Sports Equipment, Book a Courier Service
If you are flying with sports equipment like golf clubs, additional costs will apply. Again in Europe, sports equipment can incur extortionate costs even if you are only flying short distances. British Newspaper Daily Mail found that to check in one 30 kg (66 pounds) bag to mainland Spain, travelers could expect to pay at least £235 or $360. If you are planning on grabbing a round of golf at St. Andrews or Muirfield, the world's oldest golf club, or hitting the more sun-splashed golf friendly Spain and Portugal, then it's definitely worth considering using a courier.
By using a courier service to Spain like ParcelHero (www.parcelhero.com) it would cost just $45. The Daily Mail also found courier services are particularly useful when it comes to sports equipment like golf clubs. Incredibly, Ryanair charges up to £500 to check in golf clubs (that's $765). However, the typical courier company charges $200. The same applies to standard holiday luggage as well. And as well as saving money on strollers and baby carriages, you can avoid hanging around the baggage carousel losing the will to live, waiting hours at check in losing the will to live, and carrying heavy bags to and from airport halls to taxis to your holiday accommodation. Why not send it ahead and have it resting in your hotel as you walk through the door.
Key Takeaway: With convenient door-to-door service, it pays to use a professional courier.
Travel Tip #5: Double Check if Your Hotel or Accommodation Can Accept Deliveries
Most courier services will deliver directly to your hotel, as long as it has a front desk or concierge. Before booking a service, call any hotels you will be staying at to double check that they are happy to accept packages for you. Print out any shipping and customs forms to attach to your luggage. Most companies will include this at time of booking. Simply affix a copy to your suitcase and the courier will collect your item from a home or office address.
Key Takeaway: Make sure any courier service you book with also offers a parcel tracking service. Companies like ParcelHero (www.ParcelHero.com) provide up-to-date information, so you know exactly where your equipment is at all times. This way you can travel worry free.
---
---
Stuart Gustafson is America's International Travel Expert® who speaks on cruise ships, writes novels, sends out a monthly newsletter, and loves everything about travel. Visit his website at www.stuartgustafson.com.