We've been coming to Los Cabos at the tip of Mexico's Baja peninsula for fifteen years. In that time, we've spent a fair amount of time in the "smaller a quieter" of the two cities — San Jose del Cabo. I hate to admit that I'd seen the sign for the Don Sanchez Restaurant as I'd driven on Boulevard Mijares toward the main plaza, but, like many tourists, didn't go inside. I found out on Sunday night that I SHOULD have gone in there a long time ago; it truly is an amazing gem that's hidden right in plain sight!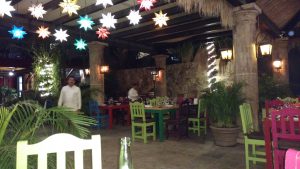 We ate in the
Hacienda Courtyard
, one of Owner/Chef Tadd Chapman's three venues in this fabulous setting.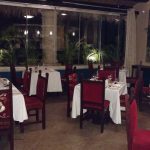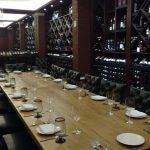 One of the other two venues that are available is the
Guadalupe Terrace
(the left photo), a glass-enclosed area with its own private bar with tables for four or eight or any configuration you want. While individuals and couples and small groups may dine here, this is also a perfect setting for a medium-sized group function. This privacy and intimacy here sets you apart from other restaurants. The other dining venue (I'd call it "To Die For") is
The Wine Cellar
, their own private cava with over 350 different wines all available for you. This temperature-controlled enclave is ideal for the experiential diners who appreciate excellence in setting, selection, and service!
Speaking of service, with the properly trained and experienced wait staff that is a hallmark in Tadd Chapman's restaurants, you will not be in need of anything.
Below are photos of what we had for dinner, all perfectly served by Marcos with explanations by him and by Ezequiel: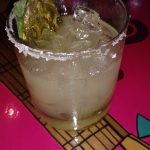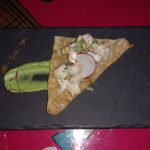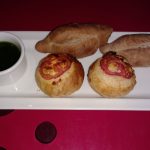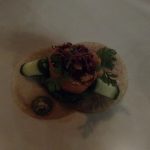 The Jalapeño Margarita was made with Cointreau, Jalapeño-infused Tequila, Lime Juice, garnished with a fresh Basil Leaf and a Carmelized Jalapeño Pepper!
Scallop Esquite: on WonTon skin with scallop, Habanero, Roasted Corn, Shallots, Cotija Cheese.
The homemade breads were served with a pesto-oil combination that we drizzled over the warm bread as we enjoyed each appetizer that was paired with the Kim Crawford Sauvignon Blanc wine–it is actually our favorite white wine!
Jicama Sashimi was thinly sliced served with fresh fruit (we had papaya; they also use mango in season), spinach, oil, Serrano Pepper slices, and peanuts.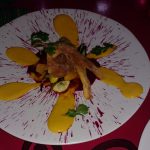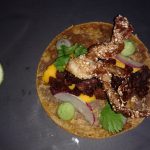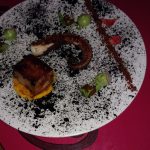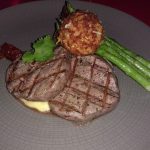 Textured Vegetables were an arts-inspired dish of sliced vegetables with perfectly matched sauces (the plate is definitely a delight for art lovers)

The Mar-Tierra Taco is a combination of crispy beef pieces combined with a fried soft-shell crab accompanied with an avocado mousse. The lemon wedge provided the right amount of acidity to this appetizer.

Belly and Suckers is a combination of Pork Belly sitting on a Carob Puree with a grilled octopus; the plate is splattered with squid ink along with a line of broken chorizo and dollops of avocado mousse.

Our first main course was a Beef Tenderloin that was cooked to perfection. I had a Medium-Rare while my wife had Rare. Both of these selections were tasty, tender, juicy, and a perfect match with the Pinot Noir from Portugal that was poured for us. The steak was served with a Hollandaise Sauce, some potatoes, asparagus, and a poached egg that had been dipped in flour and bread crumbs with Parmesan Cheese, and then fried. What a truly unexpected delight!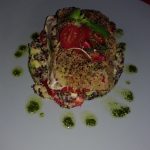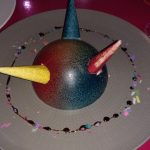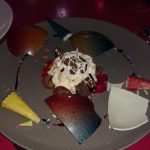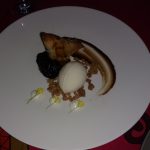 Our final entree, the Catch of the Day, was a coated Yellowtail Tuna sitting on a Quinoa bed. The two entrees made for a very interesting combination.

Dessert #1 was a Chef's Fantasy White Chocolate Piñata stuffed with different types of BonBons. I had to smash it with my spoon and then break up the chocolate pieces so I could mix them with the BonBons. After all that had already been served, it was actually a struggle to consume this creative dish.

But there's more! The final dish, accompanied with a nice Madeira Port wine, was a pastry plate with some ice cream and a Fig Compote.

---
The entire evening at the Don Sanchez Restaurant in San Jose del Cabo was a wonderful experience. The food was A+++, and so was the service from Marcos, Ezequiel, and the others. We also really enjoyed the violin music that added that additional touch of class to the atmosphere.

CLICK HERE to view a brief YouTube video (1:38) shot while dining at Don Sanchez Restaurant.
---
Happy Travels!
Stuart
---
---
Stuart Gustafson is America's International Travel Expert® who speaks on cruise ships, writes novels, sends out a monthly newsletter, is an avid TripAdvisor reviewer, and loves everything about travel. Visit his website at www.stuartgustafson.com. You can also connect with him and other travelers on his International Travel Expert page on Facebook at www.facebook.com/International-Travel-Expert-147321228683651/
---
All information and images copyright © 2018 by Stuart Gustafson Productions, LLC. America's International Travel Expert is a U.S. Registered Trademark of Stuart Gustafson Productions, LLC. Ownership of images and content from other sources remains with those sources or their attributions; no ownership by Stuart Gustafson Productions, LLC, is implied or claimed.
---
Note: This was a SPONSORED visit meaning that the resort and/or its public relations firm covered all my expenses in exchange for my writing an unbiased review. Regardless, the review is purely my subjective view of the service and perceived value received had I been paying for it in full myself. I am disclosing this in accordance with the Federal Trade Commission's 16 CFR, Part 255: "Guides Concerning the Use of Endorsements and Testimonials in Advertising."

---