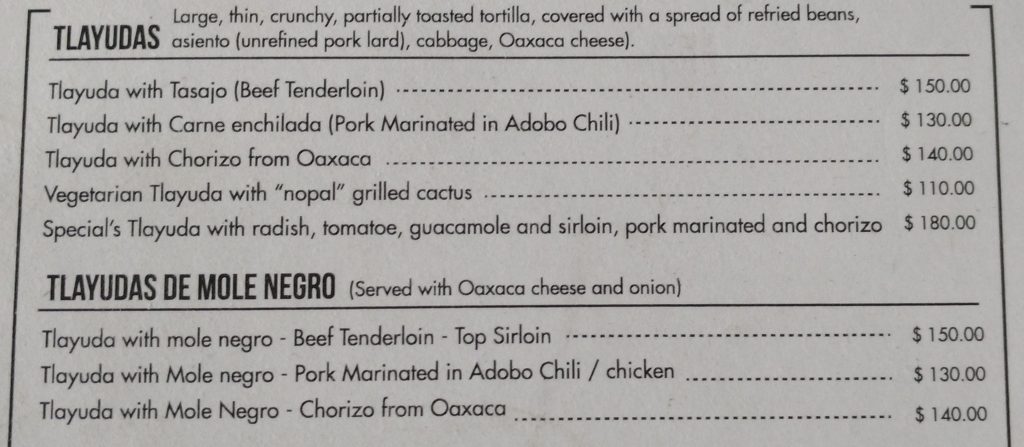 Don't worry; you're not alone if you can't easily pronounce it. I looked in the largest (size, weight, pages) dictionary I have, and there are no English words listed that begin with the two letters "t" and "l." So it's no real surprise that Americans (and maybe Brits, Aussies, and Kiwis) have a hard time pronouncing the name of this Oaxacan culinary delight. Go ahead and try to say it; the "tl" sound just doesn't roll easily off the tongue.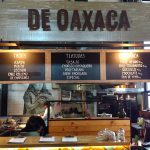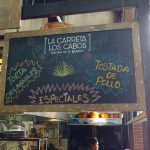 I had a delightful tlayuda on my recent trip to Los Cabos, and it was in a truly authentic Oaxacan restaurant. I didn't know what "Mi Cocina Barrio" meant, but my host explained that it's a saying for "My Neighborhood Kitchen" — or the place that locals go to eat. In other words, it has food that is eaten every day; items that people might prepare in their own homes. I was still working on pronouncing "tlayuda" without stumbling too much when I ordered mine, the one with pork marinated in adobo chili.


You can't tell the size of my tlayuda from the picture, but it was about 15 inches across — that's a family size pizza at home. The good news and the bad news is that I couldn't eat it all so I took the rest of it back to the condo where it provided me with snacks for a couple more days. One thing (in addition to taste, quality, and authenticity) that I liked about this tlayuda was the simplicity of its preparation. As you look at the top photo, you see that there are very few ingredients, meaning it IS something that you could make at home or quickly (as was the case for me) at the restaurant. I will be returning to San José del Cabo soon, and I will definitely stop in at La Carreta Oaxacan restaurant. It is located in the El Merkado food court at the Koral Center. In case you're not familiar with this relatively new multi-purpose business complex, it is on the Corridor between San José and Cabo San Lucas, right next to the Pemex station at KM 24.5.

Okay, now that you've read this short article all the way through, I want you to start over from the top. Read it out loud and don't hesitate at all each time you say the word "tlayuda". Ready? Go!

Tweet
---
Happy Travels!
Stuart
---
---
Stuart Gustafson is America's International Travel Expert® who speaks on cruise ships, writes novels, sends out a monthly newsletter, is an avid TripAdvisor reviewer, and loves everything about travel. Visit his website at www.stuartgustafson.com. You can also connect with him and other travelers on his International Travel Expert page on Facebook at www.facebook.com/International-Travel-Expert-147321228683651/
---
All information and images copyright © 2018 by Stuart Gustafson Productions, LLC. America's International Travel Expert is a U.S. Registered Trademark of Stuart Gustafson Productions, LLC. Ownership of images and content from other sources remains with those sources or their attributions; no ownership by Stuart Gustafson Productions, LLC, is implied or claimed.
---