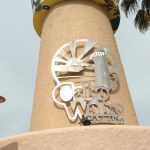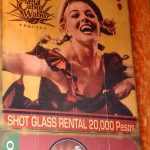 Most people who find their way to the Cabo Wabo Cantina in Cabo San Lucas, Mexico, go there for the rock and roll memorabilia, to absorb the music, or to grab their van Halen/Sammy Hagar shirt or hat. Having been to Cabo every year (sometimes two or three times a year) for the past fifteen years, we've had plenty of opportunities to do those things. Our visit this time was different–we were on a mission to have their famous Lobster Tacos. We were accompanied at lunch by co-owner Jorge who explained so many things about the restaurant, how it got started, and what their long-term mission is (don't forget that the cantina has been around since 1990!).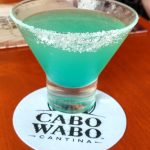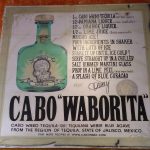 For an opening cocktail (we had lemonade after this one) we had the signature Cabo Waborita. To save time from having to explain to every patron what's in the Waborita, they decided to just plaster the ingredients on the wall. While Jorge is the one who invented the drink, he said that Sammy later wanted to add the Blue Curacao so that the drink matched the color of the Cabo Wabo Tequila bottle–that's pretty sharp marketing! And then to make it even a little more different than every other Margarita in the world, they did something different with the salt on the rim. Did you notice it? Rather than salting the entire rim, the salt is strategically placed to look like the shape of a woman's lipstick imprint on the glass. That's cool.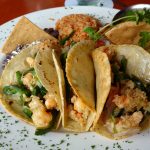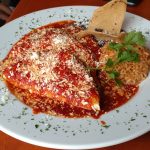 Lunch time! The plate of three Lobster Tacos looked very appealing as it was brought to me. Each taco had plenty of lobster meat, diced green peppers, red onion, and garlic. The picturesque plate also had some Mexican rice, black refried beans, salsa, a guacamole mound, and a few chips. One thing I didn't know (that's not the only one) is that the local lobster isn't in season all year. So it turns out that we were quite lucky to be here in Cabo during the right part of the year, not the three months when they don't have lobster on the menu. Your next question, then, is how do other places have lobster year-round? They're either buying frozen lobster or it's being brought in from somewhere else; it's just not fresh local lobster. Jorge saw me eying his Enchiladas Rojas, and he generously shared one with me. The chicken inside was oh-so tender, and the delicious sauce added the perfect touch.

After telling us a little of the history of how Jorge and Sammy got together as business partners, Jorge explained the importance of sustainability of quality ingredients and helping the local economy. After all, Cabo Wabo is not just a place for Rock and Roll (although it is pretty darn good at that!); it's also a place to show how a thriving enterprise can give back to the local area.

Long live Rock and Roll!
---
Happy Travels!
Stuart
---
---
Stuart Gustafson is America's International Travel Expert® who speaks on cruise ships, writes novels, sends out a monthly newsletter, is an avid TripAdvisor reviewer, and loves everything about travel. Visit his website at www.stuartgustafson.com. You can also connect with him and other travelers on his International Travel Expert page on Facebook at www.facebook.com/International-Travel-Expert-147321228683651/
---
All information and images copyright © 2018 by Stuart Gustafson Productions, LLC. America's International Travel Expert is a U.S. Registered Trademark of Stuart Gustafson Productions, LLC. Ownership of images and content from other sources remains with those sources or their attributions; no ownership by Stuart Gustafson Productions, LLC, is implied or claimed.
---
Note: This was a SPONSORED visit meaning that the restaurant and/or its public relations firm covered all my expenses in exchange for my writing an unbiased review. Regardless, the review is purely my subjective view of the service and perceived value received had I been paying for it in full myself. I am disclosing this in accordance with the Federal Trade Commission's 16 CFR, Part 255: "Guides Concerning the Use of Endorsements and Testimonials in Advertising."

---