Before I hear from you knowledgeable folks, I know that not all of these are boats; some are yachts and some are ships. But a title like "The Boats and Ships and Yachts of Bergen" is a wee bit long and doesn't have that alliterative ring to it. So perhaps you can cut me some artistic license slack here, okay? Thanks!!
---
Wednesday May 22 was a drizzly, sometimes rainy, day here in Bergen, Norway. But I made the sacrifice for you so you could see some of what was in the harbor here in Norway's second largest city. I'm fairly sure that I exceeded 10,000 steps, even though I have no way of knowing as I don't have anything that counts that sort of thing. I do know that I did a lot of walking.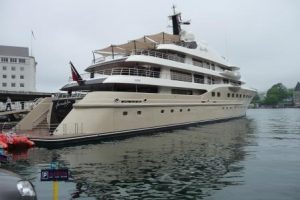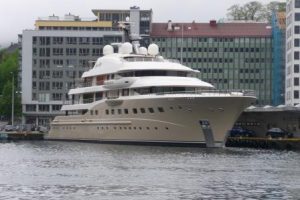 This is
Here Comes the Sun
, a 272-foot yacht with a five-deck interior. they were loaded lots of store bags from the back of a car when I was taking the pictures. She is reportedly owned by Alexander Dzhaparidze (just one of his several yachts, four of them named with a Beatles theme). I saw this one in February when I was in Cabo San Lucas. With a crew of 27 and guest capacity of 16, it can be rented for about a million and a half per week (and is with most yacht rentals, plus groceries plus gas).
---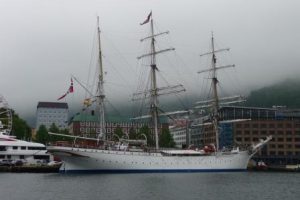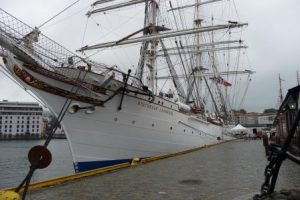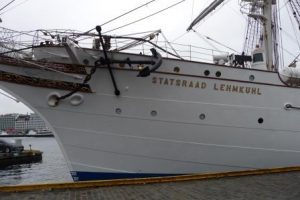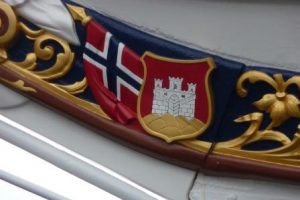 From a distance this looked a little like the Star of India that was based in the San Diego harbor when we lived there. This one is a different color, but the three masts definitely help her stand out from others. This is Statsraad Lehmkuhl, a definitely beautiful ship. Per Wikipedia, she was a German ship that was taken "as a prize" following World War I. Germany took her back in WW2, but then it went back to the British after that war. They then sold her to Norway. Among her duties is as a school ship for the Royal Norwegian Navy.


---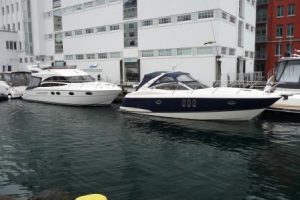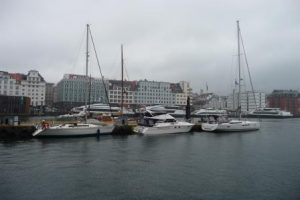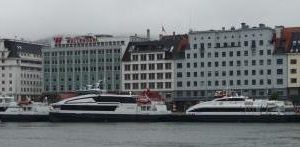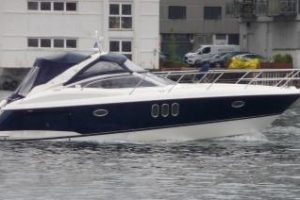 It's not just a selection of yachts and ships that ply the Bergen waters anymore. You will see sail boats (their owners usually want warmer weather), small motor craft for pleasure and for fishing (sometimes the same thing), and then you will see tour boats. There are definitely fishing boats that come in during the early morning hours to unload their catch of delicious cold water fish. The Bergen Fish Market (where had dinner on Tuesday evening) proudly displays a lot of fresh fish and other seafood, and some of it is cooked right there. Working boats, tugs, and other water craft also do their work in the harbor.
---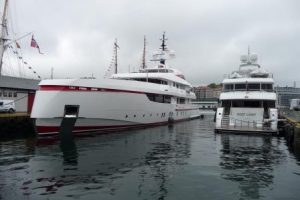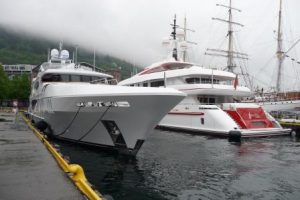 These two yachts are sitting next to each other (as is fairly obvious in the photos). The one with the red trim and somewhat bull-nose bow is
Forever One
, a 179-foot yacht owned by Bruce Grossman. Not available for charter, she can handle 8 guests with a crew of 14. Online information clearly states that this is a comfortable home on the water for Mr. Grossman and his wife Else, for whom the yacht is named.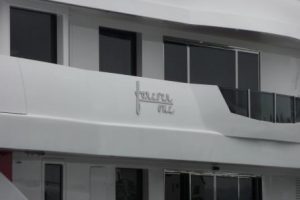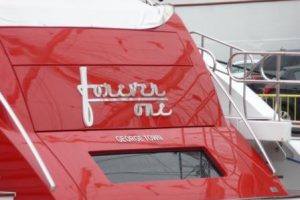 ---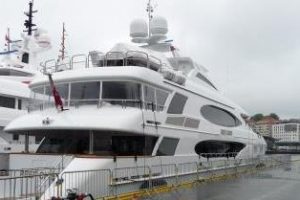 Reef Chief
has several online references that give different lengths. Some say about 120 feet; others say about 160 feet. Owned by James Dicke, this yacht has room for 10 guests with a crew of 9. That alone is a rarity among yachts. Usually the ratio of crew to guests is grater than one. Maybe Mr. Dicke is a little more conservative and doesn't feel the need for super over-the-top extravagant and excessive royal service (kind of like all my adjectives!). There is a top-deck step up Jacuzzi, a deluxe interior with a two-manual electric piano with bar-style semi-circle seating. The formal dining table has settings for ten (the max number of guests), and there are several areas for casual meals or snacks. I didn't take direct photos of the front windows as that might have appeared that I was trying to photograph the insides, but they are elongated upright ovals in groups of three. That seems a little different to me, but then, I'm not yacht owner!
---
NOW, for the big boys — the passenger ships that are in the harbor.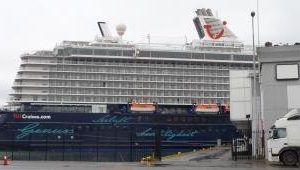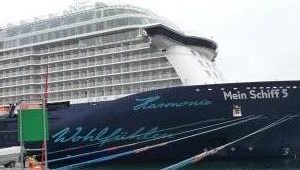 This the
Mein Schiff 5
, a three-year old cruise ship from
TUI Cruises
. It holds 2.970 passengers with a crew of 1,030. This is actually a fairly low ratio of 0.35 crew per passenger. For comparison purposes, the
Celebrity MILLENNIUM
(a ship I've spoken on many times) has a ratio of 0.45, and the
Viking Sea
(the ship I'm speaking on from May 23 to June 20) has a ratio of 0.59.
---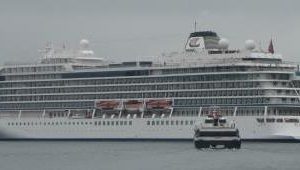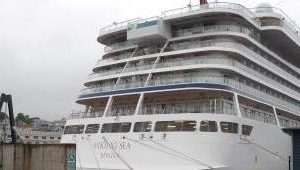 This is the
Viking Sea
, the ship that will be my home for the next four weeks as I'm speaking on two 15-day back-to-back cruises. I've spoken on many cruise lines and itineraries, but this is my first on Viking Ocean. With a passenger count of about 930, it is a spacious ship with many enrichment opportunities for the guests. There are at least two speakers plus the Resident Historian, and we are providing information every day.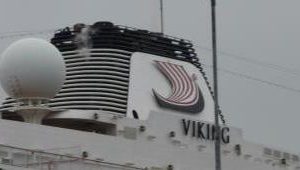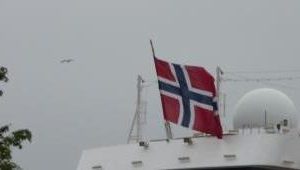 The itinerary for these cruises is really one of my favorites. We will be visiting Norway, Denmark, Germany, Poland, Estonia, Russia, Finland, and Sweden. Then we turn around and go in reverse order. Eight countries, eleven ports, six currencies, one amazing experience!!! Bandwidth is a little tighter on the ship than it is here in the hotel, but I will be posting as I can along the way.
---
Happy Travels!
Stuart
---
Stuart Gustafson is America's International Travel Expert® who speaks on cruise ships, writes novels (see his new Capital City Murders series), sends out an infrequent newsletter (almost every month!), is an avid TripAdvisor reviewer, and loves everything about travel. Visit his website at www.stuartgustafson.com. You can also connect with him personally on Facebook and/or with him and other travelers on his International Travel Expert page on Facebook at www.facebook.com/International-Travel-Expert-147321228683651/
---
All information and images copyright © 2014-2019 by Stuart Gustafson Productions, LLC. America's International Travel Expert is a U.S. Registered Trademark of Stuart Gustafson Productions, LLC.
---