As we departed from our two-day stay in Laem Chabang, we sailed south in the calm waters of the Gulf of Thailand until we reached the open waters of the South China Sea. After another relaxing sea day we pulled into the industrial port of Phu My in the southern part of Vietnam. Our bus trip into Ho Chi Minh City, aka Saigon, took only ninety minutes thanks to the newly constructed highway (previous trips had been over two hours).
---
Our first stop was at the Reunification Hall, the former Presidential Palace of South Vietnam.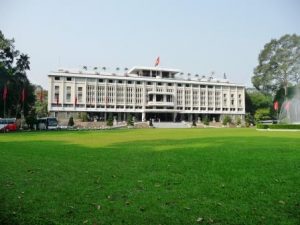 Our guide took us quickly through the Hall where we did see the former present's helicopter on the roof as well as some of the important rooms, both above ground and in the below-ground bunker.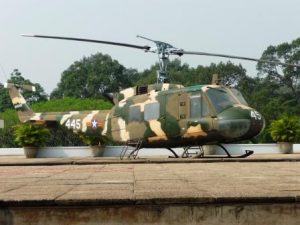 I've been to the Hall on two previous trips, and I was hoping that we would also have time to visit the tanks out front and read about the defector who dropped a bomb on the Palace in April of 1975. The outside grounds were well maintained with ornamental plants and shrubbery.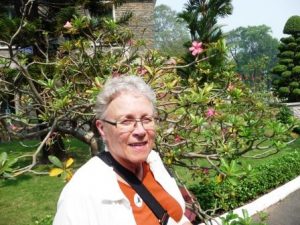 We re-boarded our bus inside the gates and as we left, we exited via the famous area where on April 30, 1975, the North Vietnamese stormed the Place by driving a tank through the gate, bringing an end to the conflict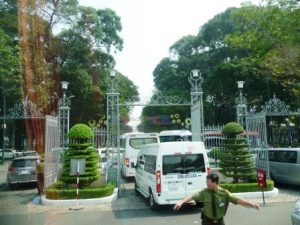 ---
I've always wanted to visit the Saigon Zoo & Botanical Gardens, but previous trips would stop at the History Museum at the edge of the gardens, but never inside them. Established in 1864 along the Saigon River, the zoo is also a popular place for locals.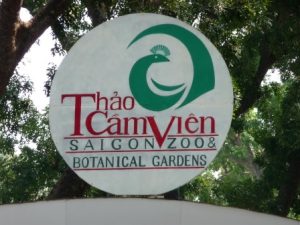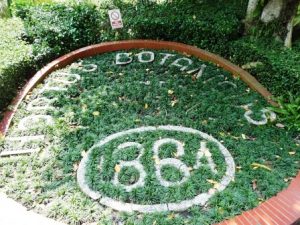 This was a treat for me and the other guests as we walked around and saw animals, both large and small – rhinoceros, elephant, bears, birds, monkeys, tigers, etc.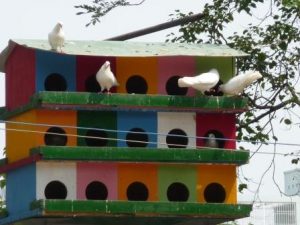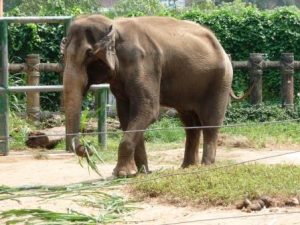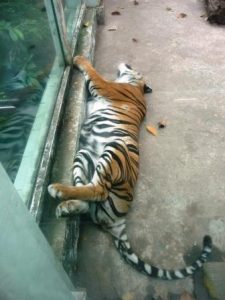 There are many types of trees and flowers around the gardens, including an orchid house. The orchids were not very colorful, so we opted for an outside location for the photo.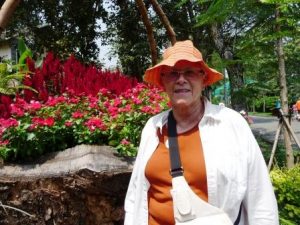 ---
A delightful buffet lunch was served at the Lion Brewery & Restaurant. I wasn't expecting that we would eat at a German Brewhouse, but the food was decidedly Vietnamese, and it was very good. They did have German beer available, but it was a cold bottle of the local Saigon Green beer that was served to us.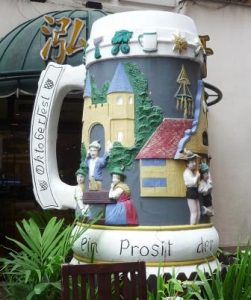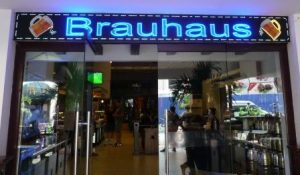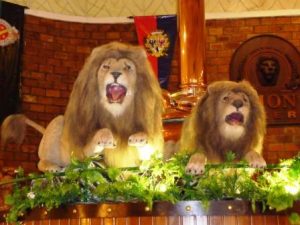 ---
We had some time for souvenir shopping after lunch, and several of us bought a selection of beautiful greeting cards that have pop-up cuts when the card is opened. Some of the street vendors were also selling baseball-style caps at a very cheap price of three hats for five U.S. Dollars. I saw a few people buying them, but I don't need any more hats.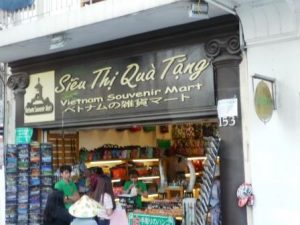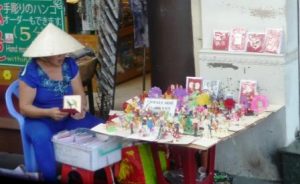 ---
The Ho Chi Minh City Museum has many items telling the history of the city.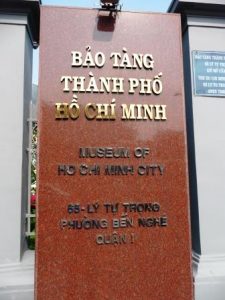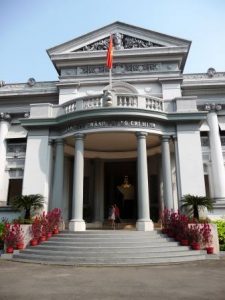 I thought that the items outside the building were more interesting.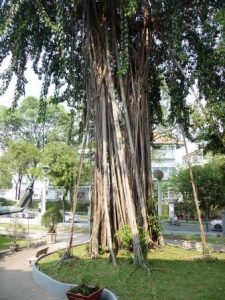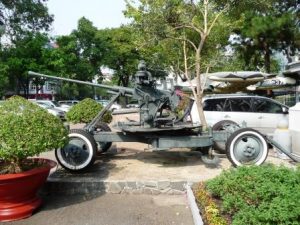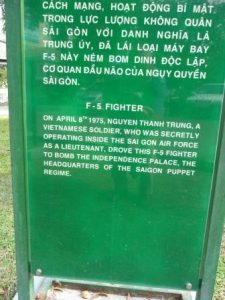 ---
Our final stop was at a temple where incense was burning and Buddhist monks were chanting in several of the rooms.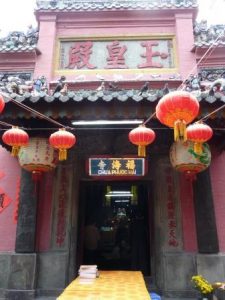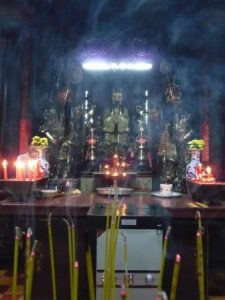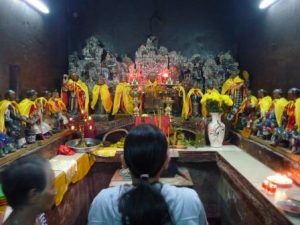 We saw this dog in the last room, and he looked very content.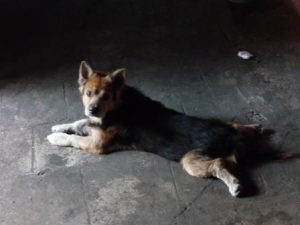 ---
If you've ever wanted to be a millionaire, just come to Vietnam where it's very easy to hold a million in your hand. This display that I have is worth about forty-five U.S. Dollars, and it was just some of the local currency (Vietnam Dong) that I had — I was "a millionaire for a day"!

---
It was an enjoyable day in Ho Chi Minh City, and we returned in time for dinner and to watch as our ship pulled out of the port of Phu My in the evening for another sea day before our final two ports in Vietnam. We've been enjoying learning about the culture of the country and tasting the food – very good! While there was some discussion of the Vietnam Conflict during our tours, there was nothing negative; it was given just as background facts.
Happy Travels!
Stuart
---
---
Stuart Gustafson is America's International Travel Expert® who speaks on cruise ships, writes novels, sends out an infrequent newsletter (almost every month!), is an avid TripAdvisor reviewer, and loves everything about travel. Visit his website at www.stuartgustafson.com. You can also connect with him and other travelers on his International Travel Expert page on Facebook at www.facebook.com/International-Travel-Expert-147321228683651/
---
All information and images copyright © 2017 by Stuart Gustafson Productions, LLC. America's International Travel Expert is a U.S. Registered Trademark of Stuart Gustafson Productions, LLC. Ownership of images and content from linked sources remains with those sources or their attributions; no ownership by Stuart Gustafson Productions, LLC, is implied or claimed.
---