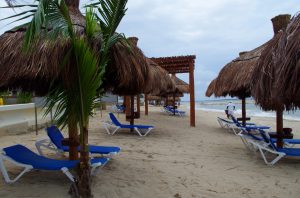 #ventusatmarinaelcid
Situated along the sandy beaches of the Caribbean Sea about 135 miles almost due East from the Mayan ruins of Chichén Itzá is Puerto Morelos, a community in the Cancun-Riviera Maya area. That this area is under a three-hour drive to Chichén Itzá is relevant in that the memory of one of the most famous Mayan gods, Kukulkan, lives on at the El Cid Resorts (
www.elcid.com
) in the Cancun-Riviera Maya area.
You've never heard of Kukulkan? I bet you have, even if it's only a visual memory. One of the most famous monuments at Chichén Itzá is the step pyramid commonly known as El Castillo, although its official name is the Temple of Kukulkan.

Does that look familiar? Occurring twice a year, on the vernal and autumnal equinoxes, the setting sunlight works its way down the steps of the great staircase to the serpent's head. If that's not enough of a reason to visit, Chichén Itzá was named a UNESCO World Heritage Site in 1989.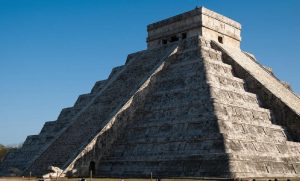 The two neighboring El Cid resorts along the beach, Hotel Marina El Cid Spa & Beach Resort and the brand new Ventus at Marina El Cid Spa & Beach Resort, share a magnificent spa facility. Taking its name and inspiration from the firefly, El Cocay Spa uses hydrotherapy treatments combined with traditional healing remedies and massage techniques. During my recent stay at the brand-new property (VENTUS at Marina El Cid), I was treated to an amazing two and one-half hour session that left me feeling relaxed, refreshed, and rejuvenated.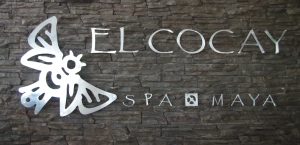 Beginning with the hydrotherapy session, I sat in a sauna that warmed me throughout until Raul, my personal attendant, came for me. He led me to the neighboring shower where I was instructed to pull on the chain above my head. Even though you know it's going to be cold, the initial feeling of that chilling water is shocking. I let go of the chain, but I knew I was supposed to have more cold water to refresh my body. So I pulled on it again and was once more drenched in the water that didn't seem as chilling this time. Raul handed me a towel as I left the shower, and he escorted me to the steam room that was foggier than anything I've ever seen. I walked carefully toward where I thought the bench was and managed to find it without tripping. Another ten-minute session in the steam room and then back out again. This time it was to climb into a cold water pool where I submerged myself several times, not really feeling the big temperature differential. After climbing out of the pool, I was wrapped in a towel and instructed to walk across the beach rocks; I was expecting them to be warm, but they were room temperature with a cool spray being emitted at ankle level. The water part was over, and Raul led me to a comfortable lounge chair where I relaxed for a few minutes with a cool cloth over my eyes.
Now it was time to go to another area for the highlight of the session, the Kukulkan Massage. The Mayans believed that the Sky was represented by the Eagle, the Earth by the Snake, and the Underground by the Jaguar. All three of these elements are incorporated in the Kukulkan Massage that begins with a spiritual cleansing. I selected a small rock and placed it into a clay pot that held burning coals. As my rock started to heat up and give off smoke, I closed my eyes and was told to let go off any thoughts that I wanted out of my body. I was led into the massage room where two people gave me the most delightful massage I've ever had. If you've never had a four-hand massage, you don't know what you're missing. The two massage therapists (one male and one female) worked their hands in unison as they imitated the Eagle with a swirling motion up my back, neck and head. The Snake was a firm-pressure wiggling pattern from the shoulders down the outside of my back and legs. And the Jaguar pounced on my shoulders and then walked down the sides. Mixed in with all of those were soothing manipulations of the back and legs in the most unbelievable manner.

#thefeelingof
I was asked, "How do you feel?" when I exited the room. I was so relaxed that I could hardly talk. I felt amazing; I wanted to take a rest, but there was so much more to take in at the resort. I gathered up my renewed energy and continued my explorations and walked along the sandy beach. Oh, speaking of the beach, you can have your massage under a palapa by the pool or under a gazebo on one of the three piers that jut out into the water!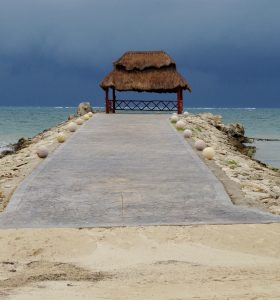 The next time you're thinking of a sand and water vacation, be sure to check out El Cid Resorts.
---
Happy Travels!
Stuart
---
NOTE: My trip to this resort was provided to me by the public relations company that handles the media and press relations for El Cid resorts.
---
Stuart Gustafson is America's International Travel Expert® who speaks on cruise ships, writes novels, sends out an infrequent newsletter (almost every month!), is an avid TripAdvisor reviewer, and loves everything about travel. Visit his website at www.stuartgustafson.com. You can also connect with him and other travelers on his International Travel Expert page on Facebook at www.facebook.com/International-Travel-Expert-147321228683651/
---
All information and images copyright © 2017 by Stuart Gustafson Productions, LLC. America's International Travel Expert is a U.S. Registered Trademark of Stuart Gustafson Productions, LLC. Ownership of images and content from other sources remains with those sources or their attributions; no ownership by Stuart Gustafson Productions, LLC, is implied or claimed.
---