Over two years in the making, the Danube River Cruises are finally going to happen! The first cruise is on the Viking Ullur from Bucharest, Romania, to Budapest, Hungary. Then there is an open day in Budapest (but wait until you read what's going on that night!).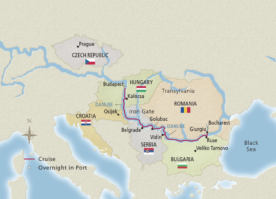 After that "open day," it's boarding time for the AmaSonata to continue up the Danube from Dudapest to Vilshofen, Germany (in the lower Bavaria region). Following that will be a few days in Prague. Overall, these trips will include some new counties visited for me, bringing my total to 68.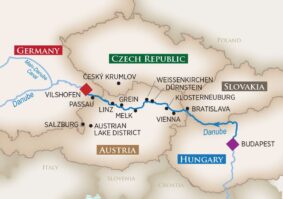 Among the many awesome and exciting adventures on these cruises, a MAJOR highlight will be dinner in Budapest at Michelin-starred Babel Restaurant, my first time at such an amazing restaurant! The evening will consist of a 13-course dinner with wine pairings. I'm definitely going there with an empty stomach!
Overall, it will be 3+ weeks in Europe, and one question I am frequently asked has to do with my clothing (which then leads into questions about luggage). I will be traveling, as I typically do, with just a carry-on bag and my backpack (that will include my laptop computer, cords, other essentials, etc.). So, how do I manage for that long with just the backpack? It's simple: TAKE THE RIGHT ITEMS, AND ONLY THEM!
For me the right items are two pair of casual pants (one worn on the plane); two dress pants; three casual shirts; three dressy shirts; sports jacket; one tie; pocket scarves; dress shoes (casual shoes are worn on the plane); socks, underwear, bathroom needs, etc. It works; I've done it before, even when speaking on cruise ships for 30 days (and requiring more dress shirts, ties, pocket scarves, etc.). The best clothing I've found for this minimalist packing list, yet while also enabling a dressy look, is Bluffworks. Their slacks and blazer are virtually wrinkle-proof, and they are very comfortable.
Traveling with just the carry-on bag and my backpack makes it much easier on flying (I don't worry about lost bags), and for taking trains (no bulky suitcases to trudge along), etc. Sure, I have to wash out a few things, but that's a whole lot less inconvenient that lugging along a couple of big bags with some items I'll never even wear!
If you are interested in hearing more about my travels (there is even a mega-cruise later in the year), or if I can help you plan an amazing trip like this one, send me and email, and let's talk!
---
Happy Travels!
Stuart
---
---
Stuart Gustafson is America's International Travel Expert® who speaks on cruise ships, writes novels, sends out a monthly newsletter, is an avid TripAdvisor reviewer, and loves everything about travel. Visit his website at www.stuartgustafson.com. You can also connect with him and other travelers on his International Travel Expert page on Facebook at www.facebook.com/International-Travel-Expert-147321228683651/
---
All information and images copyright © 2023 by Stuart Gustafson Productions, LLC. America's International Travel Expert is a U.S. Registered Trademark of Stuart Gustafson Productions, LLC. Ownership of images and content from other sources remains with those sources or their attributions; no ownership by Stuart Gustafson Productions, LLC, is implied or claimed.
---