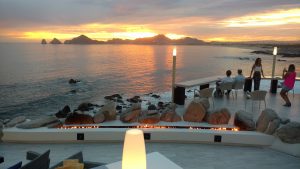 We've been coming to Cabo every year since 2003, but this was our first time to
Sunset MonaLisa Restaurant
. I don't know where else you could have a truly amazing dining experience with such a marvelous view. And then once you add in the amazing service, the serenading, and the food—it's just hard to top it. Looking straight-on to the Arch you can see why people love Cabo, and why Sunset MonaLisa is so popular.
Watch the short YouTube video (0:36) of our view from the edge of the restaurant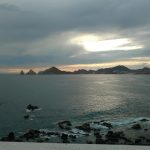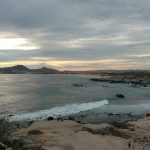 As you saw in the video above, our evening started with a glass of champagne while we sat at the edge of the rocks with the view as seen in the photo here. We saw surfers down below navigating their way through the rocky areas, enjoying the short but apparently fun rides through the surf. We were warmly greeted by Jessica Armenta, the Marketing and PR Manager for Grupo Monalisa, and by Giuseppe Napoli, the Director of Operations. Jessica, Giuseppe, and the entire staff made us feel very welcome.
Part of the amazing experience here at Sunset MonaLisa is watching the sun go over the hills as it sets into the Pacific Ocean. You must watch this beautiful YouTube video (0:35) of the setting sun and you'll see why this location is so popular!

We enjoyed a "Tasting Menu" for dinner, and the carefully prepared flavors were delicate yet noticeable.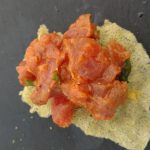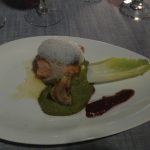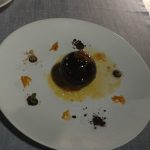 >The Tuna Tartar was prepared with a with chipotle and basil vinaigrette, served with cauliflower cream and crispy polenta
>Not pictured above (we ate it too fast) was a Truffle Tagliatelle, homemade pasta sauteed with 24-month aged Parmiggiano cheese
>Our main course was a lightly Braised Alaska Salmon with broccoli puree, fennel confit, and lemon grass foam
>The dessert (watch this YouTube video) was a Bitter Chocolate Sphere stuffed with mandarin sorbet and peppermint with a flaming liqueur poured on top

Here are a few more of my photos from the evening: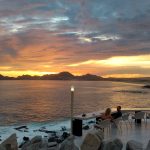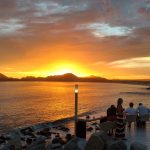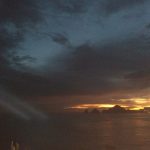 The next time you're in Cabo San Lucas, or even in San José del Cabo, your memorable evening should be at Sunset MonaLisa Restaurant; you can't go wrong!
---
Happy Travels!
Stuart
---
---
Stuart Gustafson is America's International Travel Expert® who speaks on cruise ships, writes novels, sends out a monthly newsletter, is an avid TripAdvisor reviewer, and loves everything about travel. Visit his website at www.stuartgustafson.com. You can also connect with him and other travelers on his International Travel Expert page on Facebook at www.facebook.com/International-Travel-Expert-147321228683651/
---
All information and images copyright © 2018 by Stuart Gustafson Productions, LLC. America's International Travel Expert is a U.S. Registered Trademark of Stuart Gustafson Productions, LLC. Ownership of images and content from other sources remains with those sources or their attributions; no ownership by Stuart Gustafson Productions, LLC, is implied or claimed.
---
Note: This was a SPONSORED visit meaning that the restaurant and/or its public relations firm covered all my expenses in exchange for my writing an unbiased review. Regardless, the review is purely my subjective view of the service and perceived value received had I been paying for it in full myself. I am disclosing this in accordance with the Federal Trade Commission's 16 CFR, Part 255: "Guides Concerning the Use of Endorsements and Testimonials in Advertising."

---