Here are a few of the many ways that, as America's International Travel Expert®, I can help:
Are you providing travel services?
>> Include me on a call with [potential] clients to highlight why to utilize your services
>> I'll do a cameo appearance on a video (or in-person) gathering to talk about a specific destination
>> Post a "Recommended by America's International Travel Expert®" message on your website
>> Add a quote from America's International Travel Expert® in your newsletters
Are you a lodging or food establishment?
>> Post a testimonial of "Why America's International Travel Expert® likes" your hotel, restaurant, etc.
>> Write posts and tweets for your social media
>> Do Facebook Live and other activities to promote your business
Are you a retailer (online, physical store, or both)?
>> Promote merchandise with "America's International Travel Expert® shops at yourstore.com" quote (plus a QR code)
>> Write posts and tweets for your social media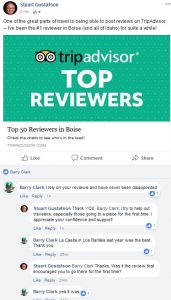 Does your target audience look at TripAdvisor reviews?
>> I've been a top TripAdvisor reviewer in the state; my review of a boutique hotel had 1,664 readers in the first week.
>> Barry C.: "I rely on your reviews and have never been disappointed."
>> Barry C.: "La Casita in Los Barilles last year was the best. Thank you."
>> Me: "Thanks. Was it the review that encouraged you to go there for the first time?"
>> Barry C.: "yes it was."
>> That's what I do; provide honest and engaging reviews that create action from potential customers.
I've done FAM trips, press trips, sponsorships, speaking engagements, all for the ultimate benefit of the end-customer, the traveler. I can help you help your clients and customers with all forms of media that best represent your business and values to result in an increase in revenue for you.
Curious about my "contract"? Click Here to download my Services Agreement. I do require this to be signed by my clients; as you read it you will see that this Agreement alone does not create any obligation on your part. The only time there is an actual commitment from you is when we both sign a Statement of Work ("SOW") describing what I will do for you and what you will pay me to do that work. Click Here to download a blank version of the single-page SOW.
Click Here to book a no-cost no-obligation 15-minute phone call with me to discuss the possibilities that are available when you work with America's International Travel Expert® to grow your brand.
With my university degrees (B.A. in Mathematics plus an MBA) combined with my writing experience (15 published books), I am a stickler for timeliness and grammar while presenting information in a comfortable and readable form.
What types of projects are you seeking?
>> Ongoing weekly contributions (social media posts, for example)
>> One-time package (create added value for website or promotional materials)
>> Monthly retainer (minor projects plus available as needed)
>> License use of my trademark America's International Travel Expert®
>> Promotional (advertising) postings on my website
>> Articles and high-quality royalty-free photos and videos that are yours to use
>> Reviews of your your products and services, perhaps even a Featured Experience
I work with other like-minded travelers and travel bloggers who share my social media so that your exposure is multiplied.
There's no obligation to make a query; CLICK HERE for the Contact form and let me know how to reach you.
Thank you for your interest.
Stuart Gustafson
America's International Travel Expert®
---