Who'd Want a German Beer in Japan?
Well, it appears that thousands did as I noticed on a recent visit to the port of Yokohama, Japan. I was on a cruise, three of them in fact, as I was a speaker on the cruises in Southeast Asia for a popular cruise line. Our final port for the first cruise, a trans-Pacific crossing from Vancouver, B.C., Canada, was in Yokohama. It's a very nice port where you can just walk right into town or take the city-offered free shuttle to one of the train stations. You have many options once you're at that station.
Off to the water side of the ship, about a ten-minute walk away, were a couple of buildings that are quite typical of many of the Japanese ports – red brick warehouses. These warehouses used to hold the fish that the boats would bring in from the daily boats as well as the ones that stayed out to sea for weeks. Most of those warehouses have been re-purposed into shops, restaurants, and venues for local events. Such is the case in Yokohama.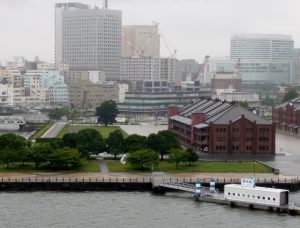 On the ship's first stop there, the warehouses stood like solitary soldiers with an empty field of concrete surrounding them. But it all changed on our second stop, twelve days later. It was the end of September, and what goes on then is, of course, Oktoberfest.
Wait a minute – if it's called Oktoberfest, why is it held in September and not in October? Here's the short answer: The festival began in October in the early 1800s, but it was soon realized that the September evenings in Germany were much nicer than in October, so the event was moved up several weeks for nicer weather and it could still end in October. There it, a short answer in one sentence.
Okay, why is it being held in Japan if it involves German beer?
There's the answer, another short answer. Beer!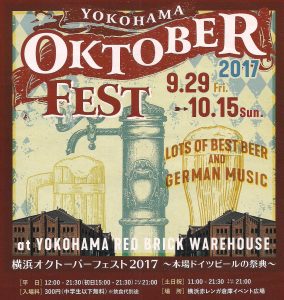 So off the ship I went and headed over to the Yokohama Oktoberfest. We were fortunate that the weather was quite decent. It was sprinkling on our first visit, so the sunshine this time definitely compensated for the cool temperatures and slight breeze. Admission was 300 Yen, a little under $3.00, and once you were in you wore a wristband that enabled you to get into other areas of the festival.

The authorized beer and food vendors were not shy about "hawking their wares,"and most of the beer prices began at 1,200 Yen for a half-liter glass. That translates to around $12.00 for a pint of beer, definitely a spendy price, but then it's German beer, and you're in Japan!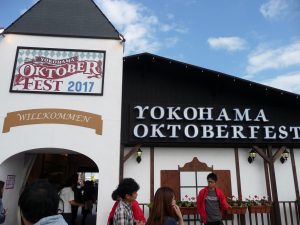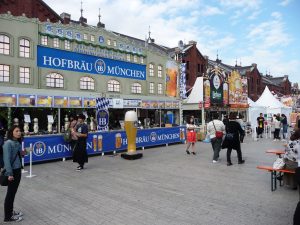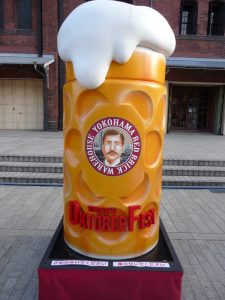 My estimate is that there were over 4,000 people in attendance while I was there that afternoon. There were tables in the open (where I sat with friends from the ship), and there was also a large tent (in the Munich beer hall tradition) that looked quite full with about 2,000 people enjoying their food and drink while music was being played.
It was an enjoyable afternoon and probably the only Oktoberfest I'll ever attend. I've been to the Hofbrauhaus in Munch, but not for THE event. Happening upon this great festival was fun, and it made being away from the family a little more enjoyable.
---
Happy Travels!
Stuart
---
---
Stuart Gustafson is America's International Travel Expert® who speaks on cruise ships, writes novels, sends out an infrequent newsletter (almost every month!), is an avid TripAdvisor reviewer, and loves everything about travel. Visit his website at www.stuartgustafson.com. You can also connect with him and other travelers on his International Travel Expert page on Facebook at www.facebook.com/International-Travel-Expert-147321228683651/
---
All information and images copyright © 2017 by Stuart Gustafson Productions, LLC. America's International Travel Expert is a U.S. Registered Trademark of Stuart Gustafson Productions, LLC. Ownership of images and content from linked sources remains with those sources or their attributions; no ownership by Stuart Gustafson Productions, LLC, is implied or claimed.
---