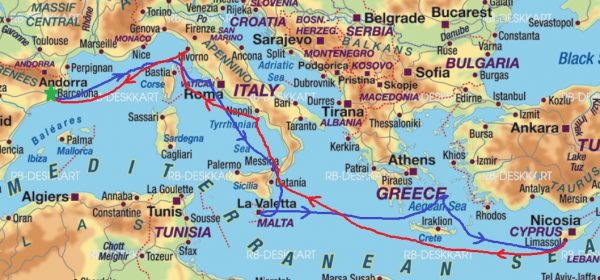 Thank you for your interest in Disappearances in the MEDITERRANEAN. Below are the first two chapters in the book:
1
Sunday, July 14
5:45 PM
"Ladies and gentlemen, may I have your attention, please," the voice over the ship's Public Address system announced in a stern, yet professional voice. Happy Hour was still underway in most of the ship's bars and there was considerable chatter going on. The main dining room had not yet opened, although there was a line beginning to form at its Deck Four entrance. Most passengers had gone ashore on an excursion in Civitavecchia or spent some time in the small port town so they had worked up an appetite. The railway station, a fifteen-minute walk from port, was a jumping off point for some seasoned cruisers who had destinations other than Civitavecchia in mind for the day.
All-aboard time for the passengers was at 5:30, so everyone was back on board the Royal Holiday when she was ready to set sail for her next port of call in Messina, on the isle of Sicily. At least, everyone was supposed to be on board by now.
"Once again, ladies and gentlemen, may I have your attention please," the PA voice said. "Will Mr. Tyler Jacobs in stateroom 7043 please contact Guest Relations on Deck Three immediately." The grammar was technically that of a question, but it was understood as a command. "Again, Mr. Tyler Jacobs in stateroom 7043, please contact Guest Relations on Deck Three immediately."
A first-time cruiser in the Martini Lounge turned to her husband and asked in a slightly slurred voice, "Why are they paging him? Why don't they just go to his cabin?"
"It probably means that his room key didn't register properly when he came back on board. They're required to account for every passenger who leaves the ship, and so they have to make sure they also come back on board."
"Oh," she said as she took another sip of her pink lady cocktail and then smiled at the bartender. "I think I found a new favorite drink, honey. What time's dinner?"
 
2
Friday, July 12
9:15 AM
"You'll like it, I promise," Patricia Stevens said to her husband Robert as they savored the delightful flavors of their last breakfast in Barcelona. After their nonstop flight from Newark's Liberty Airport, they'd spent four days walking around the city, the capital of the Catalan people, and taking a tour of the sites at the former Olympic Village. A retired stock broker who'd also done quite well in real estate, Robert was tired of the walking and was eager to board the ship for their 15-day cruise.
"So, what's this place you want to go to?" he asked, knowing that giving into her wishes would make the whole day go a lot better. Sightseeing wasn't high on his list of things to do, unless it included art galleries and museums.
"It's called the Güell Palace; it's one of Gaudí's finest works," Patricia replied. "It's only a couple blocks from here, right off La Rambla. Come on; it's the last thing I'll drag you to."
"I didn't know there was a palace right here in the city," Robert said in a facetious retort. "And I thought Gaudí was a painter."
Sensing her husband's sarcasm, Patricia decided to take another approach. "I'm going whether you are or not. And since it sounds like you're not going, you're going to listen to my little lecture because I've read up on this. Antoni Gaudí was probably the most famous architect in this area of Spain, and his projects reflect an enormity of scale and detail that haven't been replicated. He used his creativity, along with his novel uses of ceramics and glass, to manifest beauty in everything he touched. You know that large church we saw?" Patricia paused to see if Robert was actually listening—he was. "That magnificent church is called Sagrada Familia, and it was actually begun in 1882, and it's still another ten or fifteen years from being completed. Seven of his projects are UNESCO World Heritage Sites. The Palace Güell is not really a palace as we think about it, but it was a palatial estate for a very wealthy family. Locally, it's called Palau Güell, as Palau means Palace in Catalonian."
"Is there artwork to view in there?" Robert asked.
"Some, but it's not like the Metropolitan Museum. The entire building is a grand piece of art," Patricia replied, seeing that she'd grabbed his attention. "There's even a pipe organ in the music chamber," she added, knowing that would seal it for Robert; he loved pipe organs almost as much as he liked collecting fine art.
"Okay," Robert said as he put down his fork, wiped the linen napkin across his mouth, set the napkin on the plate, and said, "Let me pay and we'll go check out of the hotel. They've got a place to store our luggage, so we can come back for it as we head to the ship." Robert saw the upturned corners of his wife's lips; she was happy. She would have gone on her own, but she really preferred doing things with him, or with some of her socialite lady friends. "Señor, the bill, please," Robert said as the waiter passed by their table. For all his travels, Robert was not adept at foreign language. He was polite; he was a generous tipper; he just wasn't good at learning more than a few basic words in other languages.
After brushing their teeth and doing the last bit of packing, Robert and Patricia rolled their luggage down the narrow, but brightly lit, hallway to the front desk. "Oh, you're leaving us so soon?" the attendant feigned sadness as he saw them approach.
"Yes, I'm afraid so," Robert replied. "May we keep our bags here for a few hours before we ahead off to the ship?"
"Most certainly," responded José. "If you know what time you'll be back, I'll have a taxi waiting for you. And how did you enjoy your stay here in Barcelona? Here's our card that will give you a discount the next time you visit."
"Thank you," Patricia said accepting the card while she was opening the boarding papers for their cruise. "We're supposed to check in at 2:30."
"The taxi ride is only fifteen minutes, even on a busy day. I will have the taxi here at ten minutes past two and you will be fine with your check-in time. Do you need a suggestion on what to go see in your last few hours here?" José asked.
"No, thanks," Patricia answered. "We're walking over to Palau Güell, and then maybe one more stroll along La Rambla."
"Excellente," the attendant said. "You are going to the Palau at a good time; you won't have any lines to worry about. Your bill was pre-paid, so there's nothing else to do to check out. I'll see you in a few hours. Enjoy!"
"Thanks," the Stevens said in unison as they turned toward the hotel entrance and headed out into the bright sunshine. As they stepped across the narrow traffic lane onto the pedestrian area, wavy lines along La Rambla seemed to float in the warmth and the humidity of the summer's day. They turned left to head downhill toward the harbor. Robert stopped as they approached the Miró mosaic that had been in the walkway for forty years.
"Isn't this amazing," Robert began. "Most people would love to have an original piece of art by Joan Miró, and here's one that thousands of people walk on every day without paying any attention to it. Wow." Robert stared down at the pavement mosaic and shook his head sideways in disbelief. "So where's this palace?"
"The next street down there on the right, Nou Rambla," Patricia replied as she led the way.
---
RETURN to the Novels page and Disappearances in the MEDITERRANEAN
---