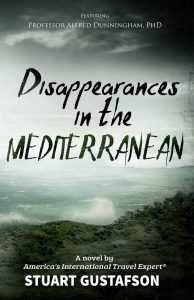 Disappearances in the MEDITERRANEAN — Book #2 in the Mathematics Professor Alfred Dunningham, PhD series

One passenger on a cruise in the Mediterranean Sea is disappearing after each day in port. Cruise line security is beefed up, and Interpol is brought on board to investigate. Nothing unusual is found, although one of the investigators thinks he's found a mathematical connection. Professor Alfred Dunningham, in Paris at a math symposium, is toasted for his work in solving the Famous Sites Murders in Sydney, Australia. He's called; the pleadings work, and the professor and his wife fly to meet and board the ship. There is some similarity to the Sydney case, but the Professor dismisses that notion—"Too obvious; would look like copy cat," he says. Can he solve the mystery before the end of the cruise?

I've been a guest speaker on cruise ships, visiting six continents; writing about a cruise ship in the Mediterranean Sea is easy because I've been there many times. Most of the descriptions in this book are factual; it's the story line that's fictitious. The truth is that cruising is probably the safest form of travel with sixteen million cruise passengers per year. I've enjoyed all the cruises I've been on, whether it's as a speaker or as a regular passenger.
---
ISBN: 978-0-9771727-9-5
The book on Amazon — Kindle and paperback versions

Buy the printed book directly from the author – Price $15.00 half price $7.50 – just click the "Add to Cart" button — you don't have to be a PayPal member to use this service; use your credit card and earn points or miles.
(You can visit various pages and add items to your shopping cart before checking out — click the "View Cart" button on any page to see what's in your cart.)
---
---