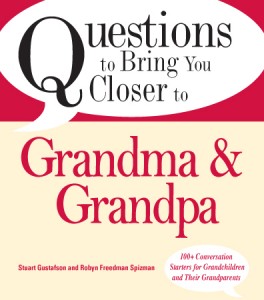 Questions to Bring You Closer to Grandma & Grandpa — Learning about the grandparents is decidedly different than Mom or Dad because of the generation that's between grandparents and grandchildren — namely the parents! So the approach is a bit different, but you'll find the experience just as rewarding, if not more so! One thing that's clear is that not all grandparents are the same, and you'll find that out right away once you start with this book. Grandparents: If you want to open the pathways for conversations with your grandchildren, get a copy of this book and give it to them after you've written inside, "This is your license to ask us anything!"

Learn about the eldest generation in your family with whom you still have connections by asking them interesting and meaningful questions, such as What do you think made our family special that you hope is carried on the next generation? Or, When/where did you meet Grandma/Grandpa, and what did you do on your first date?
---
ISBN: 978-1-59869-480-2
The book on Amazon — print and Kindle versions

Directly from the author – Price $9.95 – Click the "Add to Cart" button to buy it directly from the author — you don't have to be a PayPal member to use this service; use your credit card and earn points or miles.
(You can visit various pages and add items to your shopping cart before checking out — click the "View Cart" button on any page to see what's in your cart.)
---