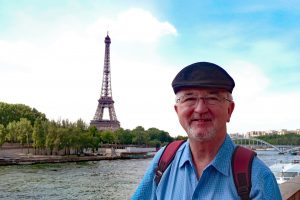 One of the most exciting times I've had traveling was spending a full two months in the amazing city of Paris, France! We had rented a flat in the 10th arrondissement, really close to Canal St. Martin, a vibrant hub of activity especially as the calendar approached the Summer Solstice. I could go on and on about Paris, Versailles, Normandy, etc., but this site is not about me, it is about YOU!
How can I help you better enjoy your travels? As an independent travel consultant, I have access to all the same booking engines as every other travel agent out there. The one big difference is that there is no pressure for me "to make quota." I don't purchase groups of cruise ship cabins or airplane seats to give you a good price. Every thing I do is personalized and offered to you based on your stated desires.

I have had the United States Registered Trademark America's International Travel Expert® since October 2010, and I love to help people travel. If you are wanting to have a fabulous trip created for you, please fill out the brief form below and then hit SUBMIT. I will set up a time to discuss it with you to ensure that everything you want is part of the plan.