Stuart Gustafson personally took each photograph displayed, and the copyrighted images are owned by him. If you click on a thumbnail image, you will see a larger and more complete picture that opens in a separate window.
---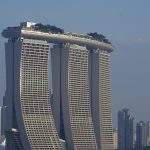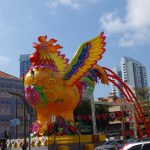 I've been to Southeast Asia quite a few times. My first trips there were in 1997 when the high-tech company I worked for would send me to visit the support centers around the world. Recently I've been fortunate to speak on cruise ships and Singapore is a popular port for beginning and ending cruises. It was late February in 2017 when my wife and I boarded a plane in San Francisco and flew non-stop to Singapore—a 16.5-hour flight. Arriving two days later in the morning, we checked into the hotel (booked for the previous evening) and then went walking. We were in the Chinatown area so we looked for a place to eat. We found an open market area where competing cobblers were making shoes by hand for their customers; there were no machines involved in the process. Beckoned by several vendors, we finally picked one where we ordered a bowl of soup and a rice dish, along with a cold Tiger beer for each of us. It was only 10 AM but our bodies had no idea what time it felt like. We shared our meals—one was a bit spicy and the other was quite plain—and we continued our adventure through the intersecting maze of streets. A keen sense of direction is very helpful here because it would be easy to not know which way was which and you end up going in the wrong direction.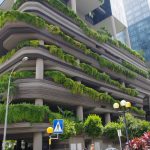 The constant humidity (Singapore is just a little over one degree North of the Equator) and the frequent rainfall keeps the place green and there are plenty of trees that are pruned to resemble an umbrella. The branches open out wide at the top to intercept the incoming sunshine, leaving plenty of space underneath for comforting shade. As you walk along one thing you notice is something that you
don't
see—litter. The Singapore people take extreme pride in the cleanliness of their city (Singapore is also the state and the country), plus there are fines if you are caught littering. Besides having amazing food choices, Singapore is also a shopper's paradise. My wife really likes to wear Crocs™, and we saw a sign outside one of the ever-present shopping malls—you know, the kind where you go in for shopping and then you get lured downstairs to the amazing aromas emanating from the food court! The shoe store was on the main floor, a small corner store, but my wife found a style and color she liked, and so our already packed suitcases just got one more thing to fit in them—and we haven't even started the cruise yet! We did a lot more walking around while there, strolling along a riverfront area lined with bars and restaurants, and just sitting in a park watching people scurry to work, to appointments, to dates, to shopping. And then came Saturday, time to board the
Celebrity MILLENNIUM
for the first of our four back-to-back cruises.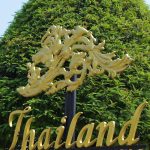 After some time at sea, our graceful ship entered the Gulf of Thailand and into the port at Laem Chabang. Some of the smaller cruise ships (no more than a few hundred passengers) can actually dock closer to Bangkok, but the majority of the ships dock about a two-hour drive away in Laem Chabang. Sadly, there's not much to do in the port area, and the "town" itself is a distant walk; so you're left with taking a tour to Bangkok or to Pattaya—I've done both. There are many highlights in Bangkok, with the Grand Palace being the "biggie." I've been there when the motor coach was able to stop close to the main gate. On this latest trip, however, we had to walk about a mile in the searing heat—we were told the reason for not getting close was because their beloved King had died. Why that meant we could drive closer is beyond me; it's not like our getting near the gate (which we did by walking) was going to make him any more dead. And his body wasn't there anyway. Oh, well! You do what you have to do. Most tours, especially those from the ship with the two-hour drive each way, don't spend much time inside the Grand Palace. It's not that there isn't much to see—there is. The reason is so you can go see other temples and statues of Buddha. So the best thing is to stay overnight in Bangkok, which has several benefits. You can enjoy some of the Bangkok nightlife and food. You can also get to the Grand Palace when it first opens, thus beating the huge crowds that are there mid-day.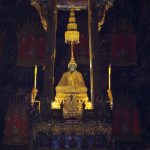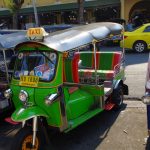 Gold abounds inside the walls of the Grand Palace, and I don't think it's possible to look anywhere and
not
see something made of gold, covered in gold, has gold highlights, etc. Removing our shoes and putting them in a place where we'd remember where they were, we got in line to visit Wat Phra Kaew, the Temple of the Emerald Buddha. Although the statue is only about 28 inches high, it and the temple are regarded as the most sacred Buddhist statue and temple in all of Thailand. As such, only the King and the Crown Prince are allowed to touch the statue and to change out its gold and jeweled garments, which is done three times a year to match the seasons. There is also no photography inside the temple, so I took my photo outside, zooming in the best I could. There wasn't much more we could see as many of the buildings are closed to tourists, so we went to the Temple of the Reclining Buddha, What Pho. The statue is so long that you can't get a full picture. Seeing the mother of pearl soles of the feet—measuring about fourteen feet long by ten feet high—was truly amazing. Also amazing was out twenty-minute ride in a tuk-tuk. The best advice when riding in one, "Keep your hands inside!" You can see more of the photos I've taken in Bangkok on my
Bangkok Travel Photos page
.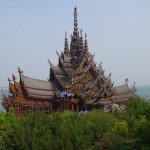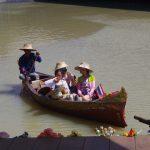 Heading south from Laem Chabang (instead of north to Bangkok), we are able to get to the coastal town of Pattaya in under an hour. You can see many more photos from my visits there on the
Pattaya Travel Photos page
. The
Sanctuary of Truth
is clearly the cultural highlight of the area, and it's fun to see these large motor coaches wind their way through the narrow streets and alleys where there is no room for making them wider. Using no metal fasteners at all, the craftsman continue to add and replace pieces and sections of intricately carved wood for its purpose to use art and culture as
"a reflection of the Ancient Vision of Earth, Ancient Knowledge, and Eastern Philosophy."
My late father was a carpenter (I have a carved mahogany table he made in 1960), and I can appreciate the skill it takes to use a hammer and chisel, especially when there are no "do-overs." The Floating Market in Pattaya is a representation of how societies functioned living along the water. The waterways here, however, are man-made, but it's still an interesting place to wander around while shopping for souvenirs or a tasty place to eat. I've done both in my visits to the Market, and the Tom Yum Soup I had was truly authentic, spicy, and yummy (pardon the pun)!
---
There is much more to this experience, and it's currently being written!
Return to FEATURED Experiences
---
Note: This was a SPONSORED trip meaning that the cruise line covered the majority of my expenses on these cruises in return for my giving presentations during the cruises. There was no anticipation or expectation of my writing a review. Regardless, the review is purely my subjective view of the service and perceived value received had I been paying for it in full myself. I am disclosing this in accordance with the Federal Trade Commission's 16 CFR, Part 255: "Guides Concerning the Use of Endorsements and Testimonials in Advertising."

---
Privacy Policy — Site Terms — Media Kit