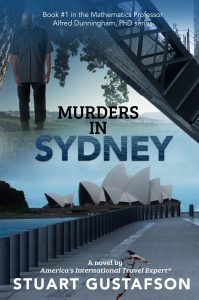 Murders in SYDNEY — Book #1 in the Mathematics Professor Alfred Dunningham, PhD series

Three murders in one week take place in high-profile locations around Sydney, NSW, Australia. There's no evidence of struggle and each victim has a similar tattoo. The front page news each days makes the Police Commissioner desperate to make an arrest. Mathematics Professor Alfred Dunningham, PhD, famous for his seminars "Detective Work Made Easier Through Mathematics," is brought in to help make sense of the pieces of the puzzle. The police apprehend their suspect and the newspaper headlines announce it. Another body is found; it fits the pattern as the previous killings. Do they have the real killer? The math professor knows and it's shocking when he names the killer.

From the author: I've been to Sydney, Australia, about ten times; several of the visits were specifically to conduct research for this book. If you've been to the CBD, the Rocks area, or the Gardens — then you'll recognize the familiar places. Also, during one of my visits I discovered a security flaw on the Sydney Harbour Bridge — it's revealed in this book!




---
ISBN: 978-0-9771727-7-1
The book on Amazon — print and Kindle versions

Buy the printed book directly from the author – Price $15.00 half price just $7.50 – just click the "Add to Cart" button — you don't have to be a PayPal member to use this service; use your credit card and earn points or miles.
(You can visit various pages and add items to your shopping cart before checking out — click the "View Cart" button on any page to see what's in your cart.)
---