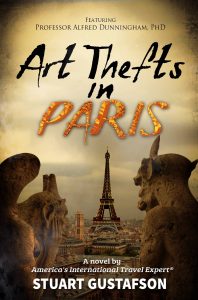 Art Thefts in PARIS — In his third novel, Professor Dunningham is brought back to Paris after priceless pieces of art are returned following thefts from major museums such as Le Louvre, Musée d'Orsay, and others. The symbols that have been affixed to each piece of art don't make sense to the police, but they do to the math professor. He pieces together their meaning, which leads to who was behind the series of thefts. After a string of arrests, two questions still remain — were they actually the originals that were returned, and will — or when will — the group strike again?

Paris, France is definitely one of my favorite places to visit. I spent two months there recently "living Parisian" and conducting research for this book. If you've been to Paris, then you'll certainly recognize many of the locations and the museum descriptions. If you've not been to Paris, what are you waiting for?
---
Note: the book is currently being written.
---