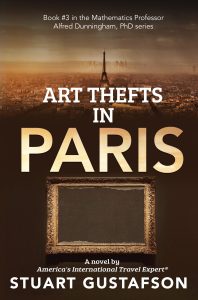 Art Thefts in PARIS — Book #3 in the Mathematics Professor Alfred Dunningham, PhD series

A seemingly well-organized series of break-ins occurred on the same night there was a city-wide museum workers' strike in Paris, France; a coincidence or an opportunity? The famous Musée d'Orsay was hit the hardest with most of their van Gogh paintings and Degas bronzes taken from their "theft-proof" frames and cases. Then the artwork was being sent back, and there were Greek letters painted on them. Why would they be returned, and what did the Greek letters mean?
Mathematics Professor Alfred Dunningham, PhD, noted for solving mysteries with mathematics, is brought to Paris. He determines that the Greek letters also mean numbers, leading him to a special 11-digit sequence, and the French National Police rush to the Pere Lachaise Cemetery where more bronzes were found. The Police know whom to nab, but their suspect is nowhere to be found; was some advance notice given?

Author Stuart Gustafson has been to Paris, France, numerous times, including a special two-month stay ("living life as a Parisian," he says) where he conducted most of the hands-on research for this novel. Although there are some similarities to actual artwork heists, he insists that the story line is indeed fictional. But the settings are so real that you'll want to re-trace the steps in the book and see if you come to the same conclusion.
---
ISBN: 978-0-9887270-1-4
Buy the printed book directly from the author – Price $15.00half price $7.50 – just click the "Add to Cart" button — you don't have to be a PayPal member to use this service; use your credit card and earn points or miles.
(You can visit various pages and add items to your shopping cart before checking out — click the "View Cart" button on any page to see what's in your cart.)
---
---